Evacuation of stranded tourists in the quake-hit town of Kaikoura in New Zealand started on Tuesday, 15 November, amid frequent aftershocks. Rains and hundreds of aftershocks that followed the powerful 7.5 magnitude earthquake in South Island just after midnight on Sunday (13 November) are hampering rescue and relief operations in the region.
Wellington on the North Island is experiencing extreme weather following the earthquake, with gale force winds and rain disrupting highway networks and rail lines. Some schools were closed in the area after electricity outages and flooding. The New Zealand Herald reported that some highways, are, however, starting to reopen, but State Highway 1 remains shut.
Over the past 24 hours, the affected region has experienced hundreds of aftershocks, reportedly ranging between 3.1 and 5.7 in magnitude. According to The Herald, more than 860 aftershocks have hit the region so far.
GeoNet, a government-funded project monitoring earthquakes, has warned that aftershocks could continue for "months to years". It also said that there have been scores of landslides in the region following rain and floods.
"We are roughly estimating from yesterday's reconnaissance flights that there may have been from 80,000 to 100,000 landslides. Much of the area affected by landslides is in the remote and rugged areas of the Inland and Seaward Kaikoura Ranges," a report published by the agency on Tuesday stated.
In addition to the aftershocks, a second major earthquake of magnitude 6.2 hit the South Island in the afternoon on Monday. The second quake hit at a depth of 10km, northeast of Christchurch.
Radio New Zealand reported that about 40 tourists had been airlifted by midday on Tuesday. The Defence Force expects to make a total of 16 flights through the day, each transferring about 12 people from the quake-hit Kaikoura to Christchurch.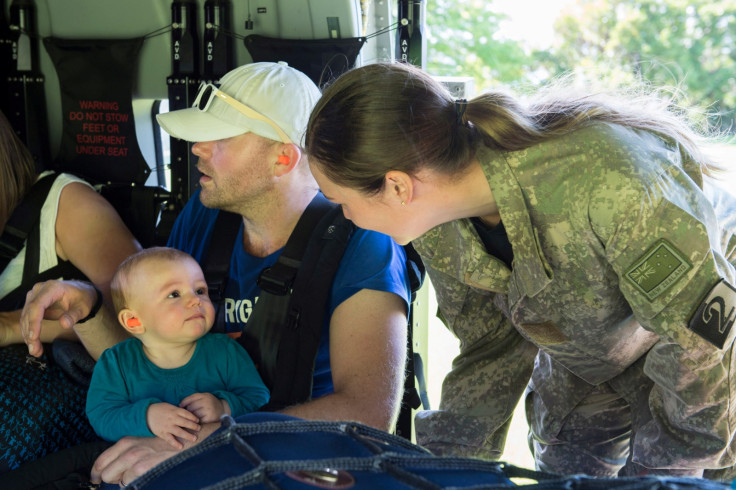 An estimated 600 to 700 tourists are reported to be still waiting to be evacuated. However, people with medical conditions, pregnant women, families with children and the elderly are being given priority.
The Chinese government reportedly chartered a helicopter to get their citizens out of Kaikoura.
Meanwhile, Transport Minister Simon Bridges told reporters on Tuesday that road and rail access to Kaikoura will take "several months" to reopen. Officials assessing the aftermath of the quake have said that the powerful quake has severed major road and rail links in the region, in addition to causing millions of dollars of damage.
Prime Minister John Key has told the Herald that he believes the government had "sharpened up" its response to earthquakes.
Civil defence officials in Kaikoura have said that the town has less than 24 hours of drinking water left and other vital supplies are also exhausting soon. Restoring water supplies and ensuring bottled water is flown into town remains their top priority, they said.