Everton are considering offering a contract to free agent Craig Gordon after David Moyes admitted that he wanted to give current number one Tim Howard some competition.
Gordon would be available immediately after being released by Sunderland in the summer as he struggled to hold down a place in the first team, despite costing the club £9million - a British record for a goalkeeper.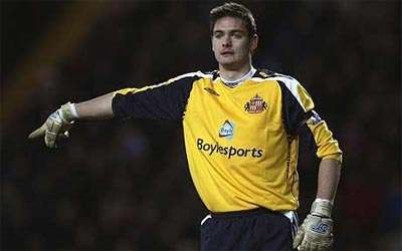 The 29-year-old has failed to find a new club and the Liverpool Echo now believes that Everton could be prepared to offer him a return to the Premier League.
Moyes has already signed two free agents this season after handing Thomas Hitzlesperger a short term contract after proving his fitness while training with Everton, while Steven Naismith was signed in the summer after leaving Rangers.
Gordon is still recovering from the injury that has played havoc on his career, but after the comments from Moyes it seems Everton are keen to sign another goalkeeper.
"We need competition in all areas and that extends to Tim Howard in goal, absolutely," admitted Moyes. "Everybody has got to make sure they are at the top of their game. We have got to make sure we are not continually giving away things, making mistakes that are leading to goals which cost us.
"We need competition and there hasn't been enough of that in the last few weeks when we've had a few injuries. It is something we have to think about in January."
Everton had started the season well but there has been a clear dip in form over the last couple of months which has seen them win just three of their last 11 Premier league fixtures.
They have consistently thrown away the lead and it was the same again at the weekend as Norwich recovered from a goal down to secure a draw, meaning that Everton have now drawn five of their last seven games.
"I think realistically we have got a team who can possibly challenge for the top four still but we would need most of our players to be fit to be able to do that," continued Moyes.
"Every club needs its squad, not just us. We've had a few missing in recent games and there hasn't been a lot to change things from the bench when we've needed to."