David Moyes has urged Marouane Fellaini to emulate Barcelona star Lionel Messi, when it comes to how a player should carry himself on the field.
The Belgian lost his cool during Everton's 2-1 loss to Norwich City at the weekend, when Canaries' Bradley Johnson lunged at him and left him with a bleeding knee. Incensed by the referee's decision to not signal a foul, he retaliated by pushing Johnson to the ground, giving away a free-kick.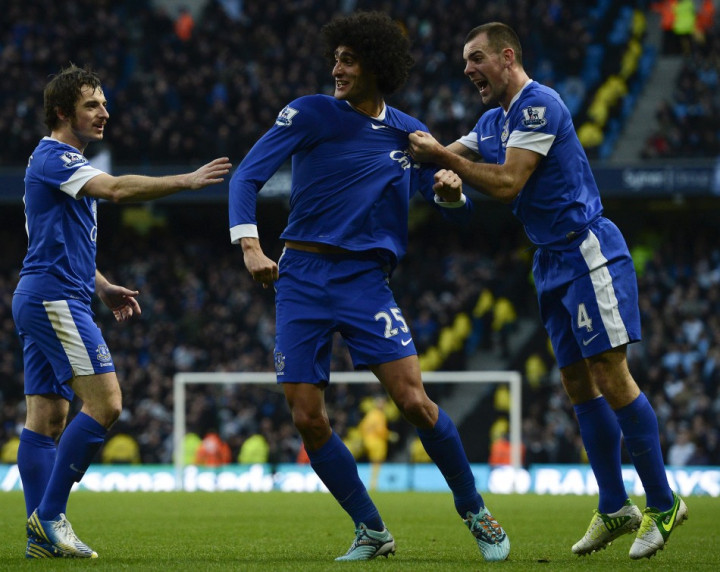 Fellaini, who is known for his hot-headed nature, had served a three-match suspension earlier in the season for head-butting Stoke City defender Ryan Shawcross. Moyes will be thankful that the same fate has not befallen the Toffees' talisman this time, something that would have had an adverse effect on the club's top four aspirations.
"I keep saying to him ''look at Lionel Messi'' - he gets kicked every week. Everybody wants to kick him because it is the only way to stop him, but all he ever does is sort of smile, get up and get on with it, and then does it again. So I have told him (Fellaini) he has to copy that. I don't think he'll ever be as good as that, but certainly in his temperament, he should try to be similar to Lionel Messi, who looks as if he just gets on and accepts that people have to try to stop him some way," the Everton manager said.
This is the second time this season that Moyes, who is wary of Fellaini's importance to the Everton squad, asked the 25-year-old to take a leaf out of Messi's book. The Belgium international has scored 11 goals in 26 starts for the Toffees this season, alerting several top clubs, especially Chelsea.
Moyes also believes the referees are often too lenient, when it comes to the number of tackles committed by opposition players on Fellaini, and has requested the officials to provide some protection to the midfielder.
"You trust them (officials) and expect them to go about their job the same for everybody. But if you look at him (Fellaini), you know he has to take as many challenges as anybody. He will give as many out, but I don't think he gets protected as well as what there is when he is challenging somebody," the Scot said.