A former director of the US Central Intelligence Agency (CIA) during the Obama administration has spoken out about Russia's alleged interference with the US presidential election, warning that future wars are likely to be sparked by nation-state activity in the cyber domain.
John Brennan, who helmed the CIA between 2013 and 2017, was speaking this week during the annual Richard Dimbleby Lecture. In his keynote, he covered a range of topics including end-to-end encryption, Moscow's ongoing cyber-espionage operations and WikiLeaks.
"Nothing has so fundamentally affected our world as the advent of this new cyber world [...] and the devices that connect to it," he said.
"It constantly enhances our daily lives [but] also puts at risk those very elements it is designed to advance: our well-being, privacy, security and prosperity.
He continued: "The increasing propagation of cyber-abilities among nation states and non-state actors – as well as their disabling, destructive, disruptive impact – raises the prospect that the next spark that leads to war will occur not on the ground, not in the seas, not in the air, but in the cyber-domain."
On 6 January this year, the US intelligence community, including the CIA, FBI and NSA, released its initial analysis into allegations of state-sponsored cyberattacks against its political system in the months leading up to the 2016 presidential election, prior to Donald Trump's success.
The 25-page report said: "We assess [Putin] ordered an influence campaign in 2016 aimed at the US presidential election. Russia's goals were to undermine public faith in the US democratic process, denigrate Secretary Clinton and harm her electability and potential presidency."
Russia rages on
Brennan stated Russia is unlikely to change its approach when it comes to geo-politics.
"Despite its military ventures in Ukraine and Syria, Moscow's preferred course of action on the foreign front is to engage in stealthy and insidious exploitation of politics and corrupt, weak, politicians rather than to project over military force," he said.
He continued: "All signs seem to indicate Putin will make even greater use of his intelligence services and their 'active measures' to shape popular perceptions, the agendas and platforms of political parties and the outcome of elections outside Russian borders."
"The indictment by the US DoJ last month of two officials from Russia's federal security service, the FSB, along with two known criminal hackers, is a good example of how some intelligence agencies are joining forces with the cyber underworld for common purpose.
"I'm not going to discuss the cyber actions of WikiLeaks lest my head explode right here."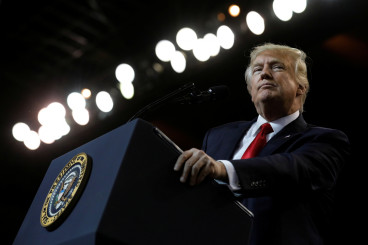 For years, the Julian Assange-led platform has plagued the US government.
The CIA – which was itself the subject of one recent publication called 'Vault 7' – claims that WikiLeaks is closely linked to Russian intelligence and believes it obtained some of its content from Moscow's hackers.
Brennan admitted nation states are "particularly active" when it comes to cyber.
He noted: "Interference in last year's presidential election, North Korea's actions against Sony Pictures and China's plunder of millions of personnel records from the US government [Office of Personnel Management] reveal the ability and willingness of nation states and their intelligence services to exploit this cyber domain."
Curiously, he failed to mention any examples of the US using its own capabilities to monitor citizens, conduct foreign surveillance, influence elections or collect data from the internet in bulk. Nor did he mention criticism he received after his agency was caught spying on the US Senate.
He did, however, call for greater links between private and public sector to combat malicious hackers and protect citizens from terrorism, sexual predators and other forms of e-crime.
He warned: "The power of the digital domain has greatly enabled terrorist organisations to communicate, incite, recruit, surveil and even trigger terrorist attacks from afar. Software applications and encryption technology have provided a virtual safe harbour for terrorists."
Brennan has long been outspoken. After Trump entered the White House the pair famously clashed following a speech the newly-elected commander-in-chief gave at CIA headquarters, where he used the event to slam the media and exaggerate his small inauguration turnout.
While the ex-CIA chief chose not to launch an attack on the current president during his keynote, he did say that "early signals coming from the new US administration are worrisome".