Are you a hacker who wants to join the FBI but can't shoot a gun, handle a hostage situation or do ten push-ups without breaking into a sweat? Good news: the agency's director, James Comey, has indicated previously tight rules may soon be loosened in your favour.
Like all law enforcement and intelligence agencies across the world, job positions are staying empty as cyber-talented individuals are increasingly being lured into the private sector thanks to its huge pay checks. As the number of cyber-threats rise, the FBI may need to adapt to survive.
Comey, head of the FBI since 2013, has hinted in a number of recent speeches that the requirements for personnel who have left the federal agency but wish to come back within two years may not have to face the gruelling Quantico training academy.
The director has, in the past, half-jokingly decried otherwise qualified recruits who would be great agents if not for their love of smoking marijuana. At the time, the claim was slammed by some US officials, including now-attorney general Jeff Sessions.
"We will find people with great integrity, high intelligence, and technical skills that can't do a push-up," he said in one speech, adding: "Can we have a cyber university inside the government? Or should we think differently about what makes up the cyber squad?"
The Associated Press (AP), on 5 April, reported Comey lamenting: "We'll find people, maybe they can do a pushup, they're smart and they can do cyber – but they want to smoke weed on the way to the interview." He added: "We need high intelligence and technical talent."
Last week, during a speech at the Intelligence and National Security Alliance, Comey said: "Our minds are open to all of these things because we are seeking a talent – talent in a pool that is increasingly small. You're going to see us experiment with a number of different approaches."
The FBI's cyber-capabilities hit the headlines last year after it claimed to be unable to crack the password protection on an Apple iPhone 5C smartphone at the centre of a terrorist investigation. It is currently investigating a number of US officials over alleged links to Russia.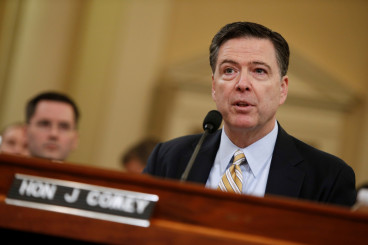 'We have to change'
Robert Anderson, a now-retired FBI executive assistant director, told AP: "The world's not coming back. The old school stuff that I did 20, 30 years ago in the State Police and the FBI, all those crimes nowadays have a major cyber component to it.
"Anything new in the government is like getting your wisdom teeth pulled out.
"Anything new takes a while for the culture of the FBI to adjust to it. If the strategic vision is to create a mecca for cyber, we're going to have to change."
But in one July 2016 speech, Comey appeared to be under no illusions about the scale of the problem facing the agency. "We can't eliminate it. We can't eliminate every vulnerability," he said, adding: "but we can find those responsible and send strong messages of deterrence."