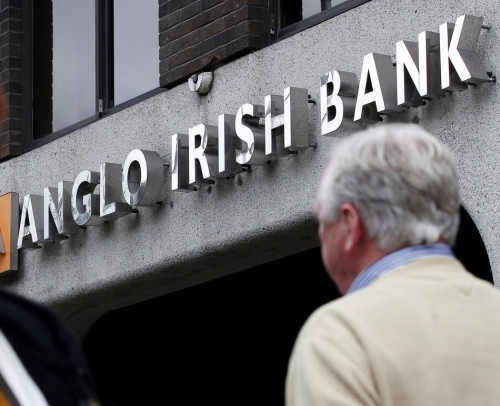 The bankrupt billionaire Sean Quinn has testified at the trial of three ex-executives of now defunct Anglo Irish Bank (AIB), stating that they assured him the lender was in "rude health", just months before its multi-billion euro bailout.
The three executives in question, Sean FitzPatrick, Patrick Whelan and William McAteer are accused of lending bank money to 16 individuals to buy bank shares in 2008.
The individuals include six members of the Quinn family.
Quinn told Dublin Circuit Criminal Court that AIB chiefs said the 29.3% stake he had built up in the bank was being sold off in ordinary shares to investors.
Quinn also told the court that David Drumm, the bank's former CEO, had forced him to agree to some of his shares being sold on to Middle Eastern investors.
"I was not very happy about that," said Quinn.
Quinn, who was once Ireland's wealthiest man, referred to a "sweetheart deal" being orchestrated by the bank's executives
"It certainly was not for our benefit," he said.
Quinn said executives of the bank assured him it was in "rude health" during a meeting in September 2008, and asked him to "come to a gentleman's agreement and we would all live happily ever after" rather than take legal action against the bank.
Quinn said he regarded AIB as a "marvellous institution" in the past. Even when its share price fell by 40% in September 2007, Quinn said he still sought to buy more shares in the bank.
Anglo-Irish Bank History
The trial is tipped to be one of the longest in Irish criminal history, due to the amount of evidence that needs to be heard, as well as the millions of documents the court has to plough through.
In 2008, the Irish government offered a blanket guarantee to its banks, faced with a credit crunch and massive property bubble.
In 2010, Dublin had to accept an €85bn (£70bn, $115bn) bailout from the European Union and International Monetary Fund. To pay the bill, Ireland had to endure painful austerity measures and it took until December 2013 to formally exit the bailout programme.
AIB was renamed the Irish Banking Resolution Corporation (IBRC), Anglo Irish was nationalised in 2009 at the cost of €30bn to taxpayers.
In July 2012 FitzPatrick, Whelan and McAteer were charged for allegedly helping a group of 16 investors buy shares in the bank when it was in financial difficulties in 2008.