A former Manchester City player has been jailed after he was convicted of heading an international money laundering ring which transferred dirty cash for suspected drug dealers.
Ryan McDowell, and five others, were convicted of transporting piles of cash in suitcases and bin bags to other criminals in 2014.
The 33-year-old was arrested after an operation by detectives from Merseyside Police's Matrix Serious and Organised Crime Unit, which centred on three cash seizures totalling over £230,000.
McDowell, of The Meadows, Rainhill, St Helens, Merseyside, used a technique known as 'cuckoo smurfing' to launder hundreds of thousands of pounds.
McDowell has been jailed for five years at Liverpool Crown Court after more than £550,000 was channelled through a 'professional' network of money launderers.
Judge Alan Conrad, QC, sentencing, told him according to the Liverpool Echo: "Yours was the leading role of the defendants before the court, in which you were directing operations and dealing in considerable sums of cash – carrying on over a period of time undeterred by stops or seizures.
"Your fall from grace has been spectacular. Having had a once promising career with a Premier League football club you now find yourself facing a long prison sentence."
In total six defendants were jailed for more than 11 years for the conspiracy in which "street cash" generated by "drug trafficking" was laundered by five men and a woman across the UK.
Police said that on 13 June 2014, fellow defendant Robert Sloan was tasked by McDowell to transport a suitcase containing £93,365 cash to Manchester where he was seen to hand it to Muhammed Ikram.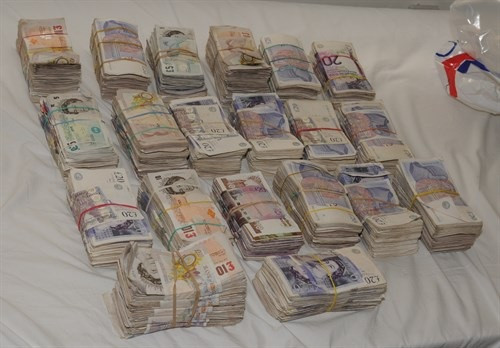 Sloan is currently serving a six-year prison sentence in relation to separate offences, and was sentenced to an additional year for money laundering offences.
Ikram and Syed Abbas were then observed to travel to a branch of HSBS where he deposited £11,370 in cash and they were arrested and found in possession of a further £6,520 in cash.
Ikram and Abbas' home address was then searched by police where the suitcase containing £93,365 was recovered along with a further £26,375 cash from a safe.
Police said banking records indicated that Ikram and Abbas had been responsible for depositing £172,918 in cash to various bank accounts as part of the 'Hawala' money laundering network.
Police examined bank accounts held by McDowell and his partner Ashleigh Garrett and identified a further £104,420 in cash that had been deposited to these accounts.
Detective Chief Inspector Steve Reardon said: "This was a long-running and complex investigation, which centred on the suspected involvement of McDowell and others in serious and organised crime, and the laundering of the large-scale proceeds of this crime.
"Working with specialist financial detectives, and closely alongside partners and various police forces, we were able to prove this conspiracy and in doing so, take organised criminals from the streets, who are intent to cause misery in Merseyside and beyond."
Ryan McDowell, 33, from The Meadows, Rainhill was sentenced to five years imprisonment for money laundering offences
Mark Dillon, 55, from East Orchard Lane, Fazakerley was sentenced to two years and two months for money laundering offences
Robert Sloan, 46, from Steeple View, Kirkby was sentenced to 12 months for money laundering offences, to be served concurrently with his current sentence
Muhammed Ikram, 46, from High Street North, East Ham, London was sentenced to two years and four months for money laundering offences
Syed Abbas, 56, from Corporation Road in Newport was sentenced to one year and four and a half months for money laundering offences
Ashleigh Garrett, 29, from Martin Close, Rainhill was sentenced to 26 weeks sentence suspended for two years, two year supervision order and 150 hours unpaid work for money laundering offences