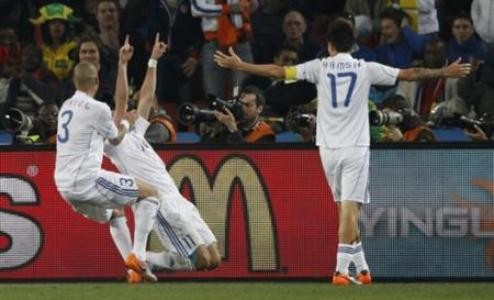 The agent of Marek Hamsik has refused to speculate on the hugely coveted midfielder's future amid rumoured interest from Manchester United and Manchester City.
The 24-year-old attacking midfielder has been perennially linked with moves to the aforementioned Manchester duo, but when the IBTimes pressed the player's agent for clarification on the alleged interests from Manchester United and Manchester City, Juraj Venglos declined to comment.
Venglos was keen to not to talk about the hugely discussed future of his client, when pressed on Manchester United and Manchester City's respective interests in the lavishly gifted Slovakian international.
When asked about the possibility of a move to either Manchester City or Manchester United, Venglos told the International Business Times: "I don't want to speak about this Marek Hamsik case.
"There is nothing to talk about."
The IBTimes then endeavoured to clarify Hamsik's future at Napoli ahead of next month's transfer window and in particular whether there was any truth to stories regarding Manchester United and Manchester City, but Venglos was adamant the matter was not up for discussion.
Like many of his club colleagues, most notably Ezequiel Lavezzi and Edinson Cavani, Hamsik's form for Napoli has made him one of the most the notable talents on the continent and subsequently persistently associated with Manchester United and Manchester City.
Hamsik was central to Napoli's successful negotiation of a very tricky looking Champions' League group which included Roberto Mancini's lavishly assembled Manchester City squad, and ahead of next month's transfer window, Manchester United and their aforementioned Premier League rivals have once again been credited as suitors.
The perceived weakness in Manchester United's midfield following the retirement of Old Trafford legend Paul Scholes has inevitably heightened rumours of possible arrivals next month, despite Sir Alex Ferguson's recent insistence the club would not be delving into the January market. Along with Hamsik, the likes of Luka Modric, Wesley Sneijder and Mario Götze have all been linked with moves to the Red Devils and their recent elimination from Europe's premier competition has done little to dampen the gossip.
While Manchester City's need for a creative player is patently not as obvious as Manchester United's given the recent form of David Silva and the gradual improvement of Samir Nasri, Roberto Mancini is a huge admirer of the former Brescia star and was aware of the player's talents during his Inter Milan tenure.
Hamsik's closely monitored future was the subject of even more speculation last month, after reports confirmed his pregnant wife had been robbed at gunpoint on the evening of their Champions League encounter against Manchester City in Naples. The news merely served to fuel rumours of a pending move away from Serie A and in addition to Manchester United and their Premier League neighbours, Real Madrid and Chelsea are believed to be amongst the playmaker's admirers.