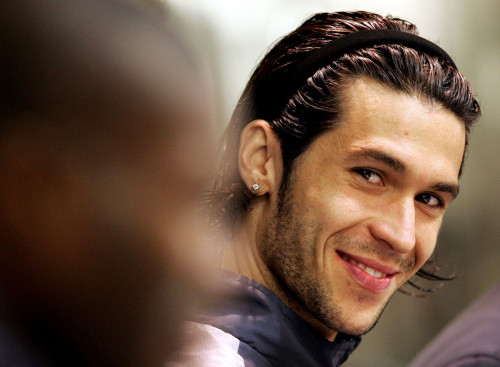 Liverpool legend Luis Garcia has granted an exclusive interview to IBTimesUK, just one month after hanging up his boots.
Garcia, who played for Barcelona and Atletico Madrid before making the move to Anfield, etched his name into Liverpool history by scoring the 'ghost goal' against Chelsea in the 2004-2005 Champions League semifinal.
Here he tells us about his dream time at Liverpool, speaks about the current squad and their target for the season, and gives Brendan Rodgers some signing advice for the summer transfer window...
You played for Barcelona, Atletico and Liverpool, where did you enjoyed the most?
I have great memories about the three teams, they are all great clubs but it is obvious that Liverpool were the most important in my career. At Anfield I got titles and lived the most special moments of my life.
Are Liverpool bigger than Barcelona?
For a Catalan player like me playing in the Barcelona first team is a dream come true but Liverpool is different. Both sides belong to the football history. They had great past and good presents but it is very tough to make a comparison between both.
Which was your best moment as a footballer?
Obviously that Champions League final against Milan, and also the semi-final against Chelsea – that was probably the most high-pressure game that I have ever played.
At half-time you were losing 3-0, what happened?
When you are losing 3-0 the first felling is that you are making a lot of mistakes, 'what have we done?' we asked ourselves. We did not understood because we had played very good games to get to that final. But we said, 'come one, let's go back onto the pitch and not throw in the towel'. The supporters were out there and we had to make up the result.
But you really thought that you could turn around that result and win the Champions League like you did?
To be honest, at 3-0 very few thought that we could turn it around, especially against an Italian team like Milan, with a strong defence. Our aim was to try and score a goal sooner rather than later and make our supporters proud of us. But when we scored the first goal we changed our mind, then we really thought we could do it.
And in the semi-final, you scored a crucial ghost goal against Chelsea. Was it really a goal?
I have watched that goal a million times. On the TV there are a lot of doubts but at that moment I really saw the ball over [the line]. Indeed, if you watch the images I quickly went to celebrate it with my teammates. I saw the ball over. Everyone has a different opinion and I guess the referee saw it like me. Anyway, it is in the past and even if it did not go in we can not do anything now. It was the most important goal in my career because of its meaning but I also scored really important goals against Slovakia with Spain.
That Liverpool-Chelsea became a battle also between Rafa Benitez and Jose Mourinho, how did the players deal with that?
We tried to be apart from that. We faced each other many times. It was really a war. Rafa also had some issues with (Sir Alex) Ferguson but the players stayed out of it.
How important was Rafa Benitez in Liverpool's success?
Rafa was the key. He got 200% from each player. He got the maximum from a team with less talent than Juventus, Milan, Chelsea or Manchester United. Getting what he got was not expected from anyone. He was responsible for Liverpool's success.
And he also was crucial in your career, wasn't he?
Yes, not only because he gave me the chance to play in a big team like Liverpool, where I could win titles, but also when I was young he taught me a lot at Tenerife. With him I learned to sacrifice myself and this is very important for your future when you are still young.
Did he also played a big role in you move to Liverpool?
Yes, of course. Having the boss' trust in a team like Liverpool is all that I needed. Liverpool allowed me to win titles and with Benitez I also knew that I was going to play an important role for them. Barcelona decided to sign Eto'o, Deco and Giuly and it was going to be very difficult to play there so I decided to move to Anfield.
You played alongside Xabi Alonso, Reina... and more Spaniards. At that time the Spanish had not really had success in the Premier League but you changed all that and now there are 32 Spanish players in the league. Why do they fit in so well here?
The Premier League is very physical and is more aggressive than La Liga. In Spain, football is more about tactics and technique, the Spanish player add that talent and the tactical work that is fitting well in England. Cazorla, Mata, Silva, Navas... they are very talented and add something different. Others like Negredo and Soldado fit well because they are powerful and at the same time they have talent. We opened the door to allow more Spanish players to come to the Premier League.
But Luis Alberto and Iago Aspas are struggling at Liverpool, why?
I watch almost every Liverpool game. The team are in a great moment. That's Luis Alberto and Aspas's problem. They are fighting for a place with top players and when a team are working properly the best way is not to make many changes. Suarez, Sturridge and Coutinho have been amazing this season. It is very difficult for any player to replace them right now.
Would you bring any other player from La Liga to Liverpool?
There are many good players here in Spain. Liverpool are searching for the highest calibre of player and it's difficult to sign them. It's great to sign players with potential, like Luis Alberto (who was signed last summer)."
Which player would you sign for Liverpool next summer?
Mario Suárez. I love him. He has just returned to action after an injury but he is great. For me he would be ideal for Liverpool. He's a midfielder with great physical presence but as well he has a technique that would suit Liverpool ideally. He would be perfect for the Premier League because as well as being strong he has that touch of quality that makes the difference.
Ivan Rakitic and Antoine Griezmann have also being linked with Liverpool recently. What do you think?
Rakitic is a great player, a great example [of the type of quality available in Spain].He's at another level, and he's demonstrating it in every game.
Are this Liverpool better than yours?
They are not better or worse, just different. The squad have top players like us but maybe they have a different style. We worked together in attack and defence and now they try to build the game from the back with possession. And also they have a good counterattack. We won titles and at the end this is what matters the most. But I don't mean that they are worse because they have not got titles yet. They are probably at the same level.
What do you think about Brendan Rodgers' style?
I like it. They always try to score and sometimes they play with even five players up front. It's risky but I like it and sometimes it is even necessary.
You never won the Premier League, are they able to do it?
It is possible. Chelsea recently got a draw against Wes Brom and we are there, just four points behind. The most important thing is to be in the fight until the very end. That's was our problem, we arrived at the final games 10 points off or more and they have to keep that four, five-point difference to have the chance of winning the title. The other sides now respect them. They are not anymore a team that struggles to even be in the top four. They are going to fight for the tittle, I am sure.
Who is you favourite player in the current squad?
It is difficult to pick just one. I like Agger. I played with him and he has grown a lot since then. Gerrard is in another league. Suarez is amazing, he is craving for goals and attacking opportunities. Sturridge is proving he has talent, Coutinho... and also Glen Johnson.
Could Suarez reach Messi's level?
It is not possible to compare them. Messi is Messi and he will be Messi forever. He is unique. Nobody is going to do what he does and what he is still going to do. Suarez has grown a lot and is one of the best players in the world. And the best in the Premier League.
You played with Sergio Aguero at Atletico, is Suarez better than him?
I played with Aguero and he is amazing. I would not say that Suarez is better or worse but right now Suarez is the number one.
Who is the best player you have ever played with?
Ronaldinho, no doubt. Messi was still starting and Ronaldinho was the best then. I have never seen anyone doing what he did.
And at Liverpool?
Gerrard and Xabi were important but Gerrard was the one who led the team. People maybe forget but to win the Champions League in 2005 he scored a late key goal against Olympiakos that was crucial. And in the final he scored again. He always appeared. He was so important for the team...
Now that you have hung up the boots, what is your next step?
I am going to be linked to football somehow. I want to enjoy my family and little by little I will do football stuff, press, tv... and soon I will go to Anfield to see Liverpool.
Would you like to become a manager?
Right now I am not thinking about that but probably I am going to be a manager in the future.
In the Premier league?
I would like in the Premier League and in La Liga but if I have to choose one I would say Premier.
And at Liverpool, I guess?
Of course, at Liverpool. Who does not want to coach Liverpool? Ask any manager in the world and all of them would tell you that they would love to manage at Liverpool.