Protests have taken place outside the Barbican theatre in London over its decision to display what demonstrators argue is a "racist" exhibition.
The gallery has been under pressure to withdraw the installation Exhibit B – The Human Zoo by South African artist Brett Bailey over claims it displays an "outrageous act of complicit racism" for mere entertainment purposes.
The exhibition uses live models to recreate the black slaves seen at 'human zoos' which existed in Europe in the 19<sup>th century as a result of colonialism.
One of the models who feature in the gallery is a topless woman with a shackle tied around her neck.
The work has been displayed across Europe and has received several positive reviews, including a five-star review in the Guardian when it was shown at this year's Edinburgh International Festival.
However, an online petition calling for the piece not to be displayed at the Barbican has attracted more than 20,000 signatures.
Sara Myers, who set up the petition on Change.org, described her "uttermost disgust" at the work and claims one of the models featured in Exhibit B asked: "How do you know we are not entertaining people the same way the human zoos did?"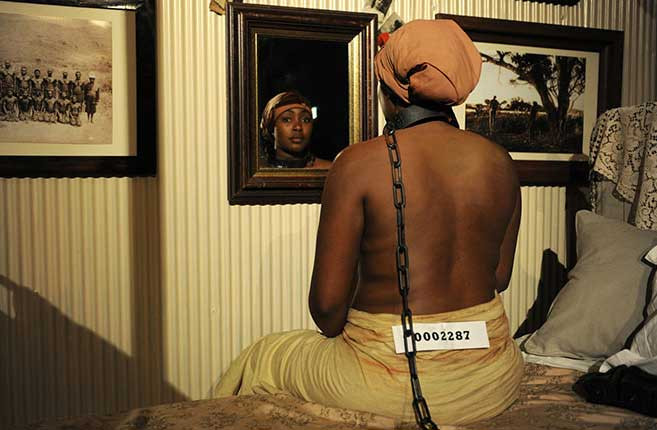 The installation is set to open at the London gallery on 23 September. However, protests have already started outside the Barbican, as demonstrators held placards reading "I am not an object" and "I am somebody" in front of the theatre entrance.
The Boycott Human Zoo protest group, who have gained more than 1,500 members on Facebook and Twitter, have added they will continue their protest on Exhibit B's opening night. The group claims the work does not expose the horrors of colonialism, but demonstrates "how effective it was and remains as a caging instrument of white supremacists".
The Barbican said it will still go ahead and show the exhibition despite the protests, adding it believes it turns the "notion of exotic spectacle on its head".
Toni Racklin, head of theatre at the Barbican, added: "The Barbican made the decision to programme the work based on its artistic merit and we appreciate that the work tackles controversial and sensitive issues.
"How successfully the production does this is of course, as with any artwork, subjective, and we can only seek to assure those who have signed the petition that the piece aims to empower and educate rather than exploit...
"While we have made the decision to programme this work we are also currently exploring ways that we can hold a public discussion around the controversial issues raised by Exhibit B during its London run."