Experts searching for the missing Malaysian airline MH370 are reportedly trying to identify a new search zone, in an attempt to solve one of the biggest mysteries in aviation history. The new head of the search team said, officials are planning the next phase by identifying the location in the Indian Ocean from where a wing flap — the first piece of wreckage that was recovered from the lost flight — most likely drifted.
The new deep-sea sonar search for the missing Boeing 777 will be launched if the current two-year search proves futile, Associated Press quoted an Australian transport safety bureau chief commissioner as saying.
Greg Hood, who took over the leadership of the bureau recently, said a new search, however, would require extra funding. Authorities from Malaysia, Australia and China had earlier announced in June that they would halt their $160m (£121.8m) hunt in August with no further plans for exploration unless new evidence emerged, which could help narrow down the search to a specific location.
"If it is not in the area which we defined, it's going to be somewhere else in the near vicinity," Hood said.
He said the six replicas of the flaperons — the wing part that was found on Reunion Islands in July 2015 — would be sent to Australia for analysis to ascertain what affects the way it drifted — the wind or the currents. This reportedly will provide Hood and his team with a more accurate drift modelling compared to the currently available one to help them narrow down their next search outside the present search of 120,000sq km (46,000 sq miles).
Subject to availability of funds, the experts are planning to fit the flaperons with satellite signals and let them float around different directions in the southern Indian Ocean and track their movement. This is expected to be conducted around 8 March 2017, the third anniversary of the disaster that claimed 239 lives.
Peter Foley, who has been the Australian bureau's director for MH370 search operations, hopes the latest plan of enhanced drift modelling would narrow the next phase of the hunt to a band of 550km (340 miles).
"Even the best drift analysis is not going to narrow it down to X-marks-the-spot," Foley said.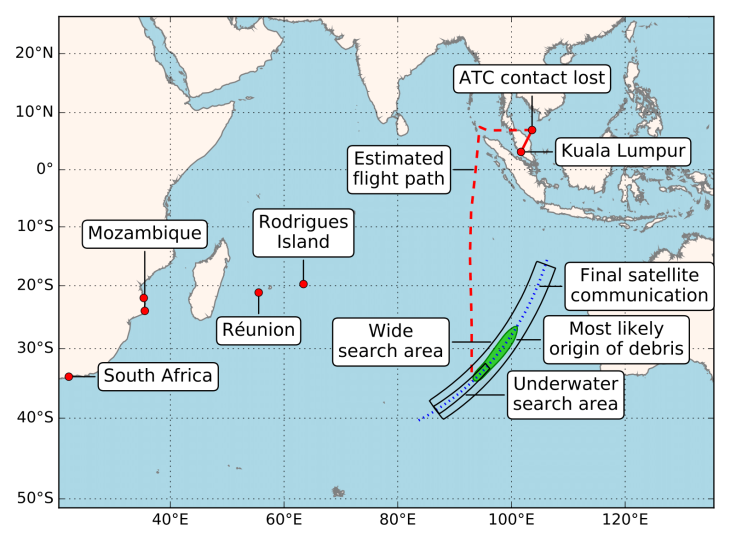 Meanwhile, for more clues, another analysis is being carried out by Australia on the barnacles found on the flaperon and another wing part that washed up the shores in Tanzania in June.
The doomed aircraft went off the radar and vanished on its route from Kuala Lumpur to Beijing in 2014. The incident has spawned several theories regarding the fate of the aircraft, with some believing it could have been hijacked and everyone on board killed.
A recent analysis has suggested the flight could have descended from a height of 35,000ft at a speed of up to 20,000ft a minute before it crashed.
"We will never know what happened to that aircraft until we find it," Foley said.