A wing part found off a Tanzania coast in June, which was recently confirmed to be "highly likely" from the missing Malaysia Airlines flight MH370, could shed light on how the plane entered the southern Indian Ocean, Australian Transport Safety Bureau (ATSB) head said.
Chief commissioner Greg Hood reportedly said that examination by experts has already confirmed the wing flap is definitely from a Boeing 777 and further probe is likely to provide clues whether it was deployed for landing or was retracted when it separated from the plane.
Hood is hopeful that the analysis of this largest piece of debris of MH370 found so far could solve a part of the mystery of the plane's disappearance in 2014 with 239 passengers and crew on board. Earlier on Friday (29 July), Australian Transport Minister Darren Chester also confirmed that the wing part found on Pemba Island off the coast of Tanzania in June is "highly likely" from the missing Malaysia Airlines flight MH370.
He said in a statement that experts continue to analyse the piece "to assess what information can be determined from it". Chester also said that they are hopeful of locating the aircraft in the search area in the Indian Ocean that remains to be scoured of the 120,000sq km designated seafloor.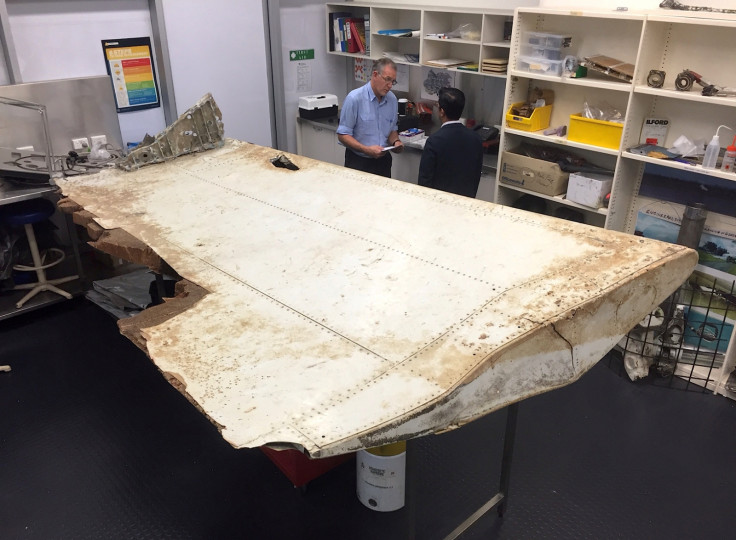 The confirmation about the wing part has come amid ongoing controversy about the suspected role of the plane's pilot Zaharie Ahmad Shah. It has emerged that a flight simulator found at the pilot's house had some deleted data points, which the FBI found to lead to a suicide route into the southern Indian Ocean. The simulated route closely matches the actual route presumed to have been taken on the day of the disappearance of the flight.
Although Australian authorities have confirmed that such details were found, they have not directly pointed fingers at the pilot saying, the findings only showed "the possibility of planning" while the actual truth still remains unknown.
Hood echoed similar views and said, "We've got no evidence either way to say there was somebody at the controls (when it hit the water)." Investigators involved in the MH370 probe are working on the theory that the plane was not manned when it crashed into the sea. Further examination of the wing flap could now shed more light on this theory.