Exxon Mobil's bid to drill in the arctic alongside Russian firms has been denied after US President Donald Trump vowed to uphold American sanctions.
The oil giant had formed an alliance with its Russian state-controlled counterpart Rosneft to carry out the drilling in 2011, but was forced to pull out of the deal when sanctions were placed in reaction to Russia's annexation of Crimea and aggression in Ukraine.
Under the leadership of Rex Tillerson – now Trump's secretary of state – Exxon lobbied Congress to lift Russian sanctions and applied for waivers to continue trading in the region, but was repeatedly knocked back.
After Trump entered office, the firm has reapplied for a waiver, according to a report in the Wall Street Journal, but Treasury Secretary Steven Mnuchin announced on Friday (21 April) that exemptions will not be granted.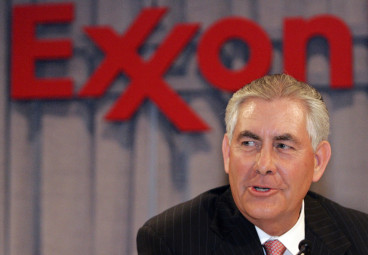 "In consultation with President Donald Trump, the Treasury Department will not be issuing waivers to US companies, including Exxon, authorising drilling prohibited by current Russian sanctions," Mnuchin said in a statement.
The US Treasury almost never publicly comments on waiver applications and the move will reinforce the notion that Trump is attempting to look tough on Russia.
His presidency has been mired with allegations of Russian collusion and the House of Intelligence Committee is currently investigating the claims.
Tillerson is known to have fostered a close relationship with Russian President Vladimir Putin in his time as Exxon chief executive. He is said to have personally negotiated deals with Putin to allow Exxon to drill in Russia's arctic waters.
The Wall Street Journal reports that the sanctions in place have exposed Exxon to losses of up to $1bn ($780m) before taxes.
Exxon has repeatedly criticised the sanctions stating that they give their European counterparts an unfair advantage, as the EU has its own sanctions and has granted numerous waivers to Russian drilling projects.
"We understand the statement today by Secretary Mnuchin in consultation with President Trump," Exxon spokesman Alan Jeffers said in response to the company's latest attempt to waive the rejection.