The top Democrat on the House Intelligence Committee investigating Russian interference in the US election has declared there is "more than circumstantial evidence" to suggest collusion between the Trump campaign and the Kremlin.
While allegations of ties between Moscow and Donald Trump's circle continue to dominate US politics, Democrat Adam Schiff was asked by Meet the Press host Chuck Todd about past statements by former Director of National Intelligence, James Clapper, that there was "no evidence whatsoever" of collusion between the two parties.
Todd also questioned Schiff on whether or not his case is purely circumstantial.
"Actually no, Chuck," Schiff said on Wednesday (22 March). "I can tell you that the case is more than that and I can't go into the particulars, but there is more than circumstantial evidence now."
Asked whether he has seen "direct evidence of collusion", Schiff replied: "I don't want to get into specifics but I will say that there is evidence that is not circumstantial and is very much worthy of an investigation. So that is what we ought to do."
Schiff then went on to criticise the "serious body blow" dealt to the investigation's ability to get answers after House Intelligence Committee Chairman Devin Nunes said communications of members of Trump's transition team – and possibly the president himself – were "incidentally collected" as part of wider surveillance. He also noted that the collation was routine and legal.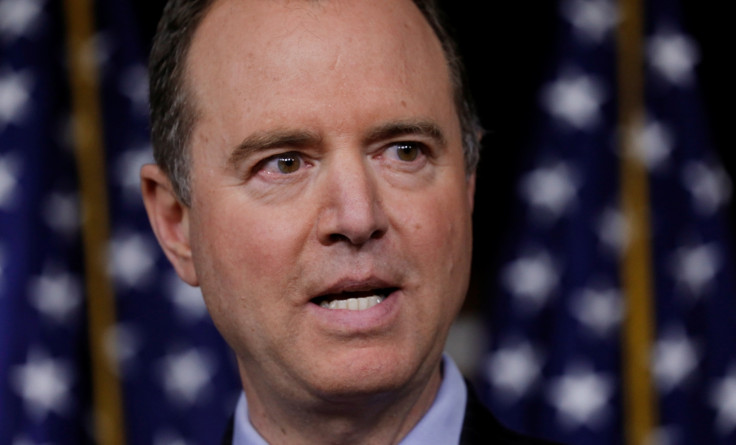 However, rather than sharing the information with Schiff, Nunes scampered over to the White House to brief the president, and then reporters.
"I have seen intelligence reports that clearly show that the President-elect and his team were, I guess, at least monitored," Nunes told reporters.
"It looks to me like it was all legally collected, but it was essentially a lot of information on the President-elect and his transition team and what they were doing."
Reacting to the decision by Nunes to bypass the committee, Schiff said it "casts quite a profound cloud over our ability to do our work".
He added: "The chairman will need to decide whether he is the chairman of an independent investigation into conduct, which includes allegations of potential co-ordination between the Trump campaign and the Russians, or he's going to act as a surrogate of the White House. Because he cannot do both."