Sebastian Vettel and Red Bull Racing picked up where they left off before the mid-season break, with a dominating display in the second practice session for the 2013 Formula 1 Belgian Grand Prix. The defending world champion topped the timesheets on Friday afternoon with 1:49.331, ahead of team mate Mark Webber on 1:49.390 despite sitting out the final 20 minutes with a puncture.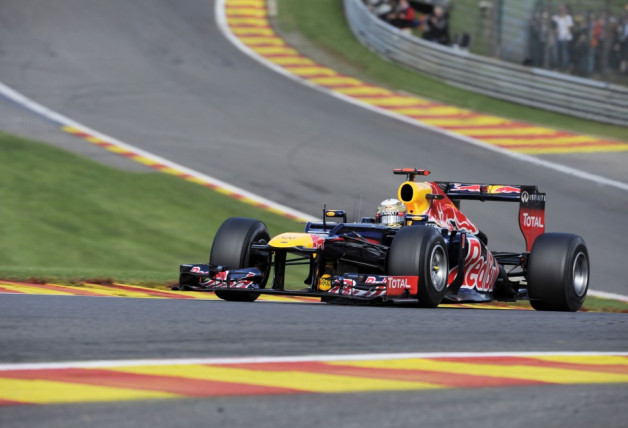 Earlier, in a rain-hit morning practice, Ferrari's Fernando Alonso set the opening pace with 1:55.198. Unfortunately for the double world champion, his car failed to respond in dry conditions; the Spaniard managed only 1:50.510 for seventh, 0.336s behind team mate Felipe Massa.
Championship contenders Lotus-Renault had a much better day, with Romain Grosjean third in the dry albeit a massive 0.818s behind leader Vettel. Grosjean's team mate, Kimi Raikkonen (who is second in the drivers' world championship race) was only sixth though and less than two-tenths of a second faster than Alonso.
The Mercedes duo of Lewis Hamilton and Nico Rosberg, both of whom closed the first half of the season on a high note, have struggled massively so far. Hamilton, who won the 2013 Formula 1 Hungarian Grand Prix before the break, was only 12th in the afternoon with 1:50.751. Rosberg was a little better - 1:50.601 for ninth.
Where to Watch Saturday Practice and Qualifying Live
Coverage of the third and final practice session starts at 9.45am BST on Sky Sports F1 and 9.55am BST on BBC Two.
Coverage of the qualifying session starts at 12pm BST on Sky Sports F1 and 12.10pm BST on BBC Two.
Real-time internet updates are available for both sessions on the Live Timing section of the sport's official website.
Weather News
Early forecasts for the weekend suggested dry weather throughout the 2013 Formula 1 Belgian Grand Prix. However, the town of Spa is notorious for rapidly changing weather conditions and rain on Friday morning appears to be a signal that they have, in fact, changed.
New forecasts call for light showers in the morning, probably just before or during the third practice session. Qualifying starts at 2pm local time which is good news for the drivers because they should just about finish qualifying before predicted thundershowers; these are expected to start at 4pm local time and continue for most of the night and early Sunday morning, meaning the track will likely lose a significant (if not all) amount of the rubber laid down over Friday and Saturday, affecting grip and lap time.