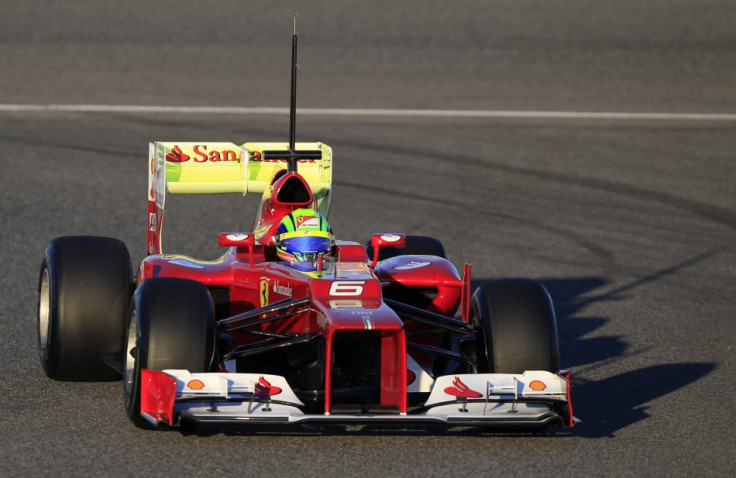 After just two days of testing Felipe Massa has admitted that Ferrari has a lot of work to do if it wants its F2012 car to be competitive this season.
Massa completed 95 laps during the second day of testing at Jerez, Spain, and the Brazilian ranked seventh fastest - although lap times at such an early stage in testing are often not reflective of true pace.
The Ferrari number two driver said in a press conference at Jerez: "Actually there is a lot of work. It is a car that needs a lot more work, and a lot more things to try as well.
"Today I did so many laps, just trying such different things on the car. It was a day where we had to concentrate so much on the little stuff, the little things that we need to understand, where we need to collect a lot of data."
The Ferrari driver added that these aspects of the car will need to be looked at in the third day of testing and during the next test, set to take place at Catalunya from 21 February.
Massa has had a difficult few seasons with Ferrari and spent much of 2011 battling with McLaren's Lewis Hamilton, resulting in the two drivers colliding more often than not; the Brazilian driver also struggled to match his teammate Fernando Alonso for pace all year.
"When asked about any surprises that the new Ferrari has thrown at the team, Massa said: "You always get them with a new car. Sometimes you don't see the result that you expect. Plus some other parts as well, you have a different direction. So I think it is just the beginning of a big job to have a consistent and competitive car."
Alonso will take over for the third day of testing and the Spaniard will be joined on track by Red Bull's double World Champion Sebastian Vettel and 2008 champion Hamilton.
Further down the pitlane, early testing has seen good pace from the Lotus (formally called Renault) with Kimi Raikkonnen looking comfortable on his come-back to F1 after a two-year break.
Testing moves to Catalunya from 21 February to 4 March and the first race of the season is the Australian GP from Albert Park, Melbourne on 18 March.