Lewis Hamilton has bounced back from his disappointing third place finish in Australia last week by going fastest in free practice ahead of this weekend's Malaysian Grand Prix in Sepang.
The McLaren driver finished at the top of the timing sheets in both first and second practice on Friday morning, while on-form Michael Schumacher in his Mercedes AMG finished second just three tenths down on the Briton's time of 1m38.021.
Hamilton's team-mate Jenson Button - who won in Australia last weekend - finished the second practice session in third, just two thousandths of a second behind the German.
After the session, Hamilton said: "It's been a good day for me. We've made a few changes to the balance of the car since the last race and I'm much happier...I went wide a couple of times on my long run in P2, and looking after the tyres will be a tough call in the race - so it's all about finding the right balance.
Hamilton, who admitted having "a tough day" at Albert Park last weekend, added: "We've got to keep pushing, stay hydrated and remain focused - there's a lot of hard work ahead."
Having finished the second practice session right on the tail of Schumacher, the 2010 world champion Jenson Button said: "The morning was a little frustrating: we had an oil leak which cut my session short, but it didn't really matter as the track was still dirty. In the afternoon, I did some positive running on both tyre compounds - I think we have a good understanding of the tyre."
Looking ahead to the race on Sunday, Button said: "I think the race will be tough for all of us - unless the circuit improves a great deal, there's going to be quite a few stops on Sunday. We want a good race car, but the aim for tomorrow is pole - you make your life a lot easier if you start from pole position, so we're putting a lot of work into single-lap performance."
The seven-time world champion Michael Schumacher is looking strong in this, his third year at Mercedes after returning to Formula One in 2010. The German was forced to retire early on in Australia but the pace of both him and the car looks good.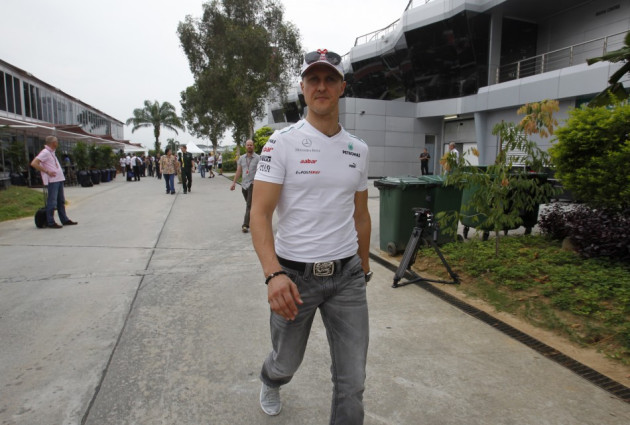 After free practice in Sepang Schumacher said: "We had a good day on track today, and I am very happy about the work that has been done since Australia. This has enabled us to achieve reasonably consistent long runs, which is obviously important in these conditions.
While confident and happy with his car, Schumacher remained modest about his performance compared to other teams: "Saying that, we also know that everyone works on different programmes on Fridays, so I would guess we have not seen everything yet. We are very much aware that we should not be too optimistic about today's outcome."
Reigning world champion Sebastian Vettel managed second place in more practice but just tenth in the afternoon session. The German said: "I would love to be a bit higher up this afternoon, but all in all we had decent running today - although there is still a lot to do. The tyres drop off quite quickly here, which is the same for all the drivers, but I think we are sliding quite a bit and I would like the car to be a bit more stable.
"We made a good step today, the potential is there, but we need to get to it. We will see what we can do tomorrow [in qualifying]."
The timetable for practice, qualifying and the race this weekend are as follows (all in GMT):
Saturday
Practice 3: 05:00 - 06:00
Qualifying: 08:00 - 09:00
Sunday
Race: 09:00 - 11:00