Lewis Hamilton will start the final practice and the qualifying session as heavy favourite to clinch pole position for the 2013 Korean Grand Prix. The Mercedes driver dominated the second practice session on Friday, posting 1:38.673 to finish 0.108s ahead of Sebastian Vettel
Where to Watch Live
The third free practice begins at 2:45am BST, while the qualifying session starts at 5am. Sky Sports F1 will provide live coverage of both events in the UK. Also watch the highlights of the qualifying on BBC One at 1.15pm BST. Real-time internet updates are available on the Live Timing section of the sport's official website.
Friday Practice Review
The 28-year-old British driver was impressive during Friday's free practice sessions and took the top spot for the qualifying at the Korean International Circuit. Hamilton's teammate Mark Webber was third while the Red Bull's Nico Rosberg will start from fourth after clocking 1:38.844.
Red Bull and Mercedes drivers took the top four spots in the second practice session on Friday's Korean Grand Prix, followed by Ferrari's Felipe Massa in fifth place. The Brazilian's team-mate Fernando Alonso will start from seventh spot while McLaren's Jenson Button was ninth.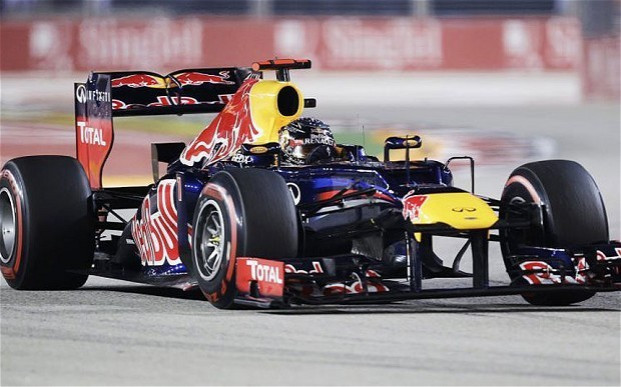 World champion Vettel is leading the championship leader board with 247 points while two time world champion Alonso is in second spot, trailing the Red Bull driver by 60 points. Hamilton is third with 151 points while Kimi Raikkonen is two points behind the English driver in fourth place.
Weather Update
The weekend's race at the Korean International Circuit has met by severe weather warnings. The forecast suggests the approach of Typhoon Fitow, which will bring torrential rain and wind in excess of 85mph.
The tropical storm will pass through the parts of Asia ahead of the weekend's Korean Grand Prix and would miss the Korean peninsula as it headed west towards mainland China.
Top 10 Results of Second Practice Session from Korean International Circuit:
1. Lewis Hamilton (GB) Mercedes 1:38.673s
2. Sebastian Vettel (Ger) Red Bull 1:38.781s
3. Nico Rosberg (Ger) Mercedes 1:38.797s
4. Mark Webber (Aus) Red Bull 1:38.844s
5. Felipe Massa (Bra) Ferrari 1:39.114s
6. Romain Grosjean (Fra) Lotus 1:39.226s
7. Fernando Alonso (Spa) Ferrari 1:39.444s
8. Kimi Raikkonen (Fin) Lotus 1:39.757s
9. Jenson Button (GB) McLaren 1:39.774s
10. Adrian Sutil (Ger) Force India 1:40.006s