Red Bull drivers Sebastian Vettel and Mark Webber have retained their 1-2 positions at the top of the grid, after the second practice session for the 2013 Formula 1 Hungarian Grand Prix. Vettel, the defending world champion, improved from his morning best of 1:22.723 to clock 1:21.264 in the afternoon, with Webber only 0.044s behind.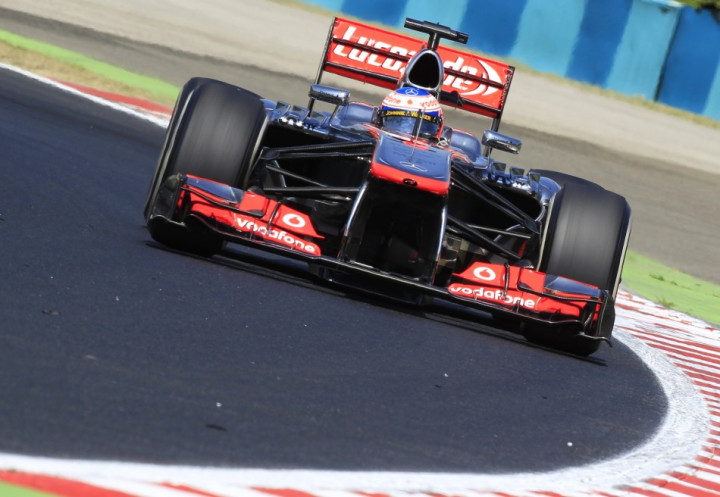 The Hungaroring is traditionally a circuit that yields faster lap times as the race weekend progresses and today was no exception, with a number of drivers posting times 2s faster than the morning.
READ: Formula 1 Hungarian GP 2013: Vettel and Webber Control Pace at Hungaroring
Vettel's championship rivals - Kimi Raikkonen of Lotus-Renault and Fernando Alonso of Ferrari - finished third and fourth in the first session and would have wanted to remain close on the heels of Vettel through this session as well. Unfortunately, Raikkonen struggled to eighth in the timesheets; his best of 1:22.011 was a second faster than the morning but a full 0.747s off Vettel and Alonso.
The Ferrari driver, though, actually improved in relation to Vettel. He moved from 1:23.099 in the morning to 1:21.426 in the afternoon (for fourth) to close to within 0.2s off the Red Bull driver.
Ferrari will have been particularly pleased with Felipe Massa's progress though. The Brazilian was horribly off the pace in the morning, with a best of 1:24.299 for 15th. This time he finished fifth with 1:21.544.
Meanwhile, Raikkonen's team mate, Romain Grosjean, kept Lotus' flag flying with 1:21.417 for third. The Frenchman improved from his morning's 1:23.111.
Mercedes continue to struggle, at least so far. The German works team were banned from the recent tyre and young driver test at Silverstone (after they were to found to have illegally tested Pirelli tyres on a 201-spec car). And the loss of data from those three days - when the Italian tyre manufacturers were running revised 2013-spec rubbers for the rest of this season - is perhaps showing.
Nico Rosberg was the fastest in the morning, with 1:23.531 for eighth, with Lewis Hamilton 13th and 0.626s behind. In the afternoon, Rosberg improved to 1:21.991 for seventh but was beaten by Hamilton who posted 1:21.802 for sixth.
Jenson Button was unable to recreate the highs of the morning session, when he managed 1:23.370 for sixth and had to be content with ninth place, although the McLaren driver did improve by 1.190s. Force India's Adrian Sutil was similarly troubled, dropping from seventh in the morning to 10th in the afternoon.
For full details on the timesheet and sector times, click here.