Red Bull team principle Christian Horner reacted angrily to suggestions that there is a conspiracy against Mark Webber after the Australian suffered numerous setbacks during the Chinese Grand Prix.
Coming into the race there had been plenty of speculation about Webber's future at Red Bull after the controversy surrounding Sebastian Vettel's decision to ignore team orders and pass his team mate in Malaysia.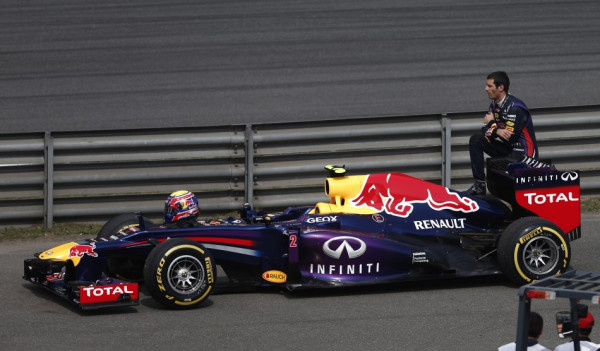 Vettel had then refused to apologise for his actions and even suggested that he would ignore team orders again if it meant he could gain a victory.
Webber would have been hoping to put the controversy behind him and simply concentrate on gaining a positive result in China but it ended up another weekend to forget for the veteran driver.
Having outperformed Vettel during the practice sessions, Webber only provisionally qualified in 14th after he was instructed to park up in Q2. There was then a refuelling problem that meant the Red Bull could not provide a fuel sample, forcing him to start from the pit lane.
An early collision with Jean-Eric Vergne in the Toro Rosso, for which he will receive a three=place grid penalty in Bahrain, forced him into the pits where his right-rear wheel was not fitted correctly.
The wheel subsequently came off and forced Webber out of the race, leaving Horner to answer questions about a possible conspiracy.
"Forget conspiracy," replied an angry Horner. "We're all about trying to get two cars to finish as high as we can. Anybody that thinks that there's a conspiracy here against one, or either, or any driver doesn't know what they're looking at."
Horner also backed Webber to respond in a strong manner when the teams head off to Bahrain later this week.
"I think he'll be fine," Horner told Sky Sports. "He's a tough competitor, he's driving very well, and he was driving back through the field.
"We made some big changes overnight to gear ratios, downforce levels and set-up to assist him to do that and as we see with these tyres at the moment the way his strategy was going it was working well for him.
"He was back in the thick of it. The contact was unfortunate and then obviously to retire the car was even more unfortunate. Our objective is to get both cars to the finish as high as we can."