Police have ruled out a third party involvement in the deaths of a former Australian motorbike gang member turned metal singer and his girlfriend.
The bodies of Bronson Ellery, 24, and Shelsea Schilling, 20, were found at an address in the Southport area of Gold Coast, Queensland, on the east coast of Australia on 11 November.
Ellery, known as Lizard Man to police due to his distinctive tattoos which cover his entire body, was a former member of the Bandidos biker gang, a notorious criminal club who have chapters across the world.
There were reports police had suspected the pair may have been murdered. However, police have now said officers have found a note at the scene which has given "an indication as to how things have occurred."
Gold Coast Detective Inspector Mark Thompson told the Gold Coast Bulletin: "We are not looking for a third person to be involved. I can't go into any injuries and how they were sustained."
Ellery's older sister Talitha Ellery, said the pair had an off-and-on against relationship that they had rekindled over the past few months.
"They had this crazy love for one another and they wanted to be together." she said. "They had a history but they had chosen to be together and they weren't going to let anyone stop them. I really felt like this time it was going to be different."
At the time of their deaths, Schilling had obtained a domestic violence order against Ellery.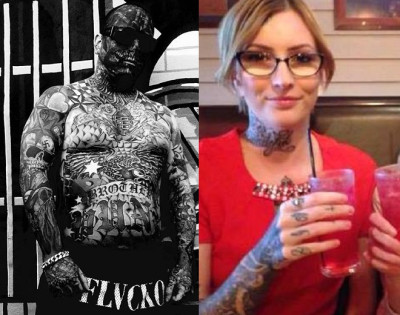 Schilling's family were unable to contact the 20-year-old for several days before she was found dead, with her mother Bonnie Markwell Mobbs filling a missing person's report.
Posting a message on Facebook after her body was found, Mobbs added: "B*****d had no life took his and my baby girl. Rott [sic] in hell Bronson. Let my angle be safe."
Schilling, who would have turned 21 on 30 November, completed a diploma in beauty therapy at the Australian National College of Beauty in Brisbane in 2013.
An autopsy on the pair has been completed and investigators are now hoping to determine a cause of death.
After spending time in and out of jail for various offences, Ellery decided to quit the Bandidos biker gang to follow his aspiration to be a musician.
Ellery created the one-man hardcore outfit Solitary Son, which eventually led to the release of his first album Searching Souls in 2015. He claims he wrote to lyrics to the songs while spending time in prison for witness intimidation.
Speaking to Noisey, Ellery said he had always hop5ed to go into a career in music even before joining the biker gang, which he claimed he left after he "got turned on by them at the clubhouse".
He added: "I knew I was never going to do a normal job or anything, because I knew I was going to be fully dedicated to music. I was going make it hard for myself and just cover myself in tattoos so there was no other option. I just didn't care. I knew I was doing music, so it didn't matter what I looked like, and appearing like this would also help for the genre of music it is now. It makes a statement."
---
The Samaritans provides a free support service for those who need to talk to someone in the UK and Republic of Ireland. It can be contacted via Samaritans.org or by calling 116 123 (UK) or 116 123 (ROI), 24 hours a day, 365 days a year.