Facebook has rolled out a new version of the app called Workplace, formerly known as Facebook at Work, aimed at enterprise customers, after testing the service with a few organisations for over a year.
The company says more than 1,000 organisations across the globe are now using Workplace and users have already created about 100,000 groups. India, the US, Norway, the UK and France are the top five countries using Workplace.
Major organisations using Facebook's latest offering are Danone, Starbucks and Booking.com, nonprofits such as Oxfam, YES Bank in India and the Government Technology Agency of Singapore.
Workplace is basically a separate account associated with the company an employee is working in. Instead of having friends and relatives in this account, people can join chat group with co-workers.
"We've been amazed by the breadth of organisations who've embraced Workplace — from a shipping company that can now connect with their ship crews using Live video, to a bank that now uses Workplace instead of fax machines and newsletters to share updates with its distributed bank branches," Facebook said.
Workplace has all basic features that are present in the standard version of Facebook such as new feed, ability to create groups, other useful features including Live, Reactions, Search and Trending posts. This means employees can now chat with their co-workers, host discussions in groups, and follow presentations on Facebook Live.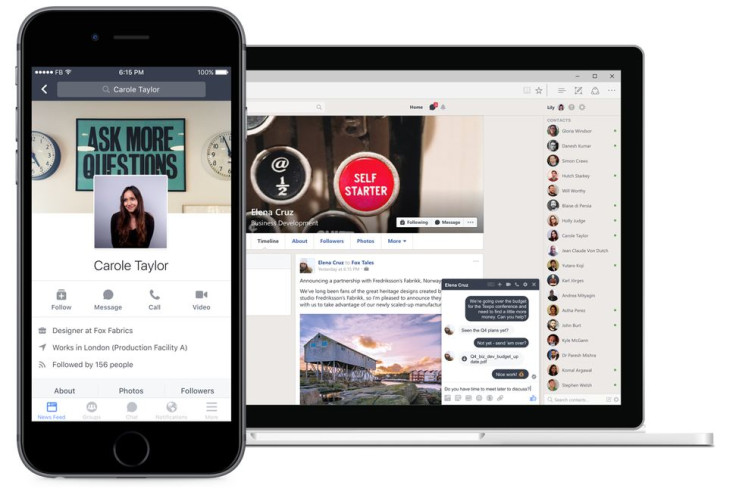 Apart from these, there are Workplace-only features which companies can take advantage of such as dashboard analytics and integrations with single sign-on and identity providers that allow organisations to integrate Workplace with their IT systems.
The company has also introduced a new feature canned Multi-Company Groups allowing employees from different businesses to work together. But the initial rollout does not contain this feature; instead it would be available to all customers in the coming weeks.
Besides, Facebook has launched Workplace Partner Program: a group of firms including Deloitte who will work along with Facebook to bring Workplace to more businesses.
While Facebook has just debuted in the corporate world, there are already a few platforms which offer similar services for collaboration on projects in the workplace. These are Yammer, Jive and Slack, which are quite popular and could give Facebook a stiff competition. Sara Jane Jones, Senior Manager, Sourcing Operations at Seven Step RPO, a global recruitment process outsourcing company that works with large organisations, earlier told IBTimes UK that enterprise social networking has grown into an industry.
Workplace pricing
Julien Codorniou, director of Facebook at Work, last month hinted at the pricing structure saying Facebook would charge companies on a monthly basis.
The pricing for Workplace is based on monthly fee for per active user. Workplace will be available for free for the first three months on a trial basis. Once the trial window closes, a company will need to pay $3 (£2.4) for up to 1k monthly active users for the service, $2 for 1,001 to 10k users a month and $1 for more than 10,001 people using the service.
Analysts believe that with Workplace, Facebook marks its foray into the corporate world, and a bid to remain relevant.
Hugo D'Ulisse, head of analytical platform at SAS UK & Ireland, told IBTimes UK: "The launch of Workplace is symptomatic of Facebook's fight for relevance in an era where social media companies simply need to work harder to build advocacy.
"Workplace offers ease of communication, connectivity between members and the potential to help individuals understand more about their work environment and network by analysing vast amounts of personal data," he added.
"Whether Workplace will secure enough interest and adoption within the enterprise remains to be seen, but for now it's offering another opportunity to keep a new generation of consumers and businesses engaged while reassessing the value it provides."