A pod of over 300 bottlenose dolphins is currently being tortured by Japanese hunters for the fourth day in a row in Taiji, Wakayama, and marine welfare charities are livestreaming footage of the abuse on social media channels like Facebook and Twitter – in a bid to raise awareness of the industry's horrific practices.
UK charity Sea Shepherd and US charity Dolphin Project are currently in Japan filming and observing the systematic torture and slaughter of dolphins by Japanese hunters, while hacking collective Anonymous is sharing their videos on social media to try to raise awareness.
The unusually rare 'superpod' of dolphins were captured by hunters last week and have been trapped in an isolated cove near the town of Taiji for the last four days since Friday 20 January in shallow water with no food, which means the dolphins also cannot hydrate themselves.
The dolphins are being kept in the cove until divers finish selecting which dolphins should be sold into captivity to marine parks and dolphinariums. The mammals not selected for captivity will be slaughtered.
Untrained, dolphins can be sold for over $25,000 (£20,000) each, while trained dolphins sell for $200,000-$300,000 each. Sea Shepherd estimates that in its lifetime, each bottlenose dolphin makes $1.5m for the marine park that owns it.
Because the pod is so unusually large, it is taking time for the hunters to select dolphins for selling to the captivity industry. The dolphins who are selected will eventually be transferred to a holding pen and they will then be fed in exchange for performing tricks, however, as long as the dolphins remain in the cove, none of them will be fed.
Using Facebook Live to raise awareness after lobbying failure
Sea Shepherd has been monitoring the dolphin hunting season in Japan for the last six years. It has also been involved in an 11-year-long battle with the Japanese government over illegal whaling in the Southern Ocean, and there are currently two Sea Shepherd ships in the Southern Ocean chasing after Japanese whaling ships.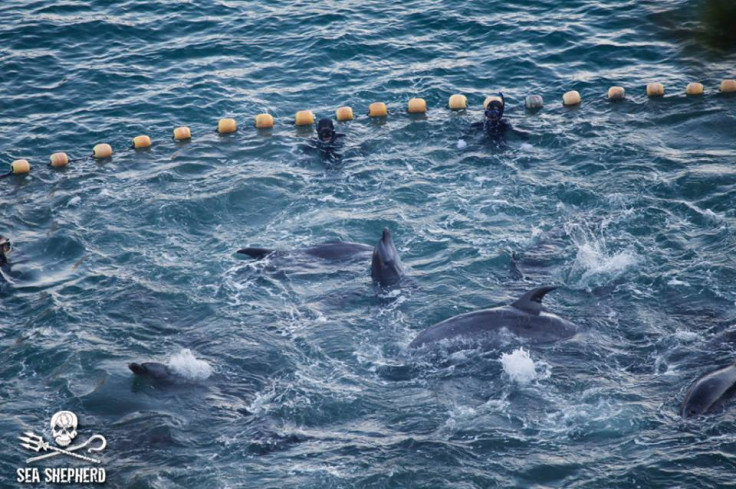 You might have heard of the 2009 Academy Award-winning documentary The Cove. That's about the same Taiji cove in this story. Yet the charity says nothing has changed.
"The Japanese are not interested, they're not listening. The International Court of Justice in Hague ruled that dolphin slaughter and whaling is illegal, and Japan just ignored it. The EU recently wrote a strongly worded letter too, but they just ignored it too," Sea Shepherd's trustee/director and captain Jessie Treverton told IBTimes UK.
So what do you do when international condemnation by multiple governments fails to have any effect? Turn to social media. Since September 2016, Sea Shepherd has been livestreaming the torture and slaughter of dolphins over Facebook Live and more recently on Periscope for Twitter to raise awareness of the incredibly cruel practices being carried out by the Japanese, and the results are impressive.
Sea Shepherd's Cove Guardians campaign Facebook page only has 370,433 likes, yet over the last seven days, visibility for its Facebook Live videos on dolphin abuse has reached 10 million users on the network.
Similarly on Twitter, when the videos are live streamed, they reach 3,000 users at a time, and after the stream ends, the video stream posts continue to receive another 35,000 clicks.
"This is the second largest pod of dolphins we've ever seen captured by Japanese hunters. We can't do anything on the ground to save the dolphins in Taiji because it's illegal. We have police following us all the time, although we do have quite a good relationship with the local authorities in Taiji," said Treverton, who claims she was recently stopped from entering Japan to continue her work monitoring the dolphins.
"We're trying to use social media as a tool to spread awareness around the world to put pressure on Japan to end this barbaric practice. If we can educate the public about the whole dolphin industry and where they come from, then hopefully they won't go to 'swim with dolphins' attractions, dolphinariums and marine parks. If they don't go there and spend their money, then the industry will end, and that's our ideal."
Anonymous has DDoS-ed aquariums and is planning more attacks
Anonymous says that it is also planning to target all parties who are connected to the captivity and slaughter of dolphins in Taiji, including the aquariums and transporters of the dolphins.
A hacker in the group recently targeted the website of a Chinese aquarium in Shenzhen and took it offline on 15 January, and as of 4pm GMT on Monday 23 January, Anonymous hackers are currently DDoSing Tianjin Haichang Polar Ocean World — a marine park in Tianjin, China.
"The Anonymous collective have been watching and attacking Japan for three years. We at #OpKillingBay have never seen such animal cruelty as we are witnessing this week," an Anonymous spokesperson told IBTimes UK.
"For seven hours everyday these dolphins are brutalised and taken to be sold to marine parks. Animals have even died in terror. This atrocity which is neither traditional nor culinary. Where are the mainstream voices for animal welfare?
"We will target government servers, [namely] Taiji and Wakayama local government sites. Everyone involved with Taiji will be a target. It is our aim to grow awareness of this atrocity. We will be a voice for the voiceless."
On Saturday 28 January, the "Light Up Taiji" protest over the dolphin slaughter and captivity market in Taiji will be held outside the Japanese Embassy in London. People who are interested are invited to join the Facebook event page for more details.