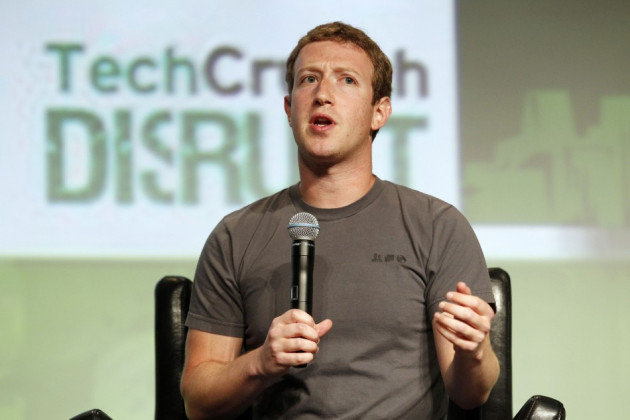 Facebook CEO Mark Zuckerberg has hinted at mobile and search engines as the new growth areas for the company while admitting that its stock performance during May's Initial Public Offering (IPO) was "disappointing".
"It's not like this is the first up and down we've had," said the 28-year-old while speaking at the TechCrunch Disrupt conference in San Francisco, his first major public appearance since the IPO.
Facebook debuted in the stock markets with a value of more than $100bn (£62.1bn) and with a debut price of $38. However, its shares have since fallen to roughly half the initial price, as investors speculated on the company's developments.
In his speech, Zuckerberg said he preferred to be underestimated which gave the freedom to take more risks. He urged people to be part of the company as it is the ideal time to "double down".
In a possible warning to Google, he said that Facebook would come up with a search engine that could provide better answers to people's questions.
Facebook currently handles around one billion search queries a day, he said, adding that the company is "uniquely positioned" to find what users ask for.
His speech seemed to have an encouraging effect on the markets as the company shares rose 3 percent in after-hours trading, although its price was still well below the $38 initial rate.
"It was positive just to see him out there speaking," Raymond James analyst Aaron Kessler told Reuters.
"He was hinting that the stock was undervalued, and we'll see about that. But he's looking at this business as a multiyear investment, even if investors are looking for results much sooner".
Reuters reported that most of the entrepreneurs, investors and coders who attended the talk said that they still had faith in the young CEO, even if the stocks failed to perform.
"This company is about vision and changing the world and I don't know who would be better prepared to lead it than the guy who had that vision and built the company to a profitable multibillion dollar company before his 30th birthday," Dave Crowder of GSV Asset Management told Reuters.
Mobile Business
Zuckerberg emphasised the role Facebook will play in mobile platforms and argued that investors may be undervaluing this aspect.
Users are more likely to access Facebook on their mobile phones than on their desktops, and advertisements can be integrated into the content rather than displayed on the periphery, he said.
"We think we are going to make a lot more money [with mobile] than we do on the desktop" Zuckerberg told the audience.
He admitted that the company had initially made a mistake by choosing the open HTML 5 framework for mobile platforms resulting in low quality apps, adding that the issue is being addressed.
"Probably we will look back and say that that was the biggest mistake, the biggest strategic mistake we made".
Zuckerberg also quahed rumours that the social networking site was planning to build a mobile phone stating that it wouldn't be the right strategy for it.