Fed up with news articles shared by its users taking up to eight seconds to appear, Facebook has taken online news into its own hands by hosting articles from newspapers, magazines and broadcasters itself.
Called Instant Articles and initially an iPhone exclusive, the system lets publishers, newspapers and magazines - including BBC News, the Guardian, Buzzfeed and National Geographic at first - to publish articles directly to Facebook, where they can be viewed more quickly and contain interactive features like maps, high-resolution images and videos.
But by signing up to the service, publishers already wary of how their content is freely consumed and shared online, are giving articles away to the billion-member social network, who hosts them on its own servers. This poses interesting questions of censorship and whether Facebook would post explicit or potentially offensive content under its own name.
Facebook says it will "give publishers control over their stories, brand experience and monetisation opportunities", and to that end will let them sell adverts in articles and keep the revenue.
Alternatively, publishers can opt to use Facebook's Audience Network to monetise unsold inventory; publishers will get 100% of revenue earned by ads on their articles, compared to the 70:30 split in their favour when sold through Facebook's existing ad network. Companies using the service can track traffic data through comScore and "other analytic tools" provided by Facebook.
A massive opportunity
Recognising how only 5% of its videos are viewed on its own website, Buzzfeed's publisher Dao Nguyen and chief of staff Ashley McCollum said in a post on the site: "There is a massive opportunity here: for editorial, for video, and for sponsored content. If we can push our content to the edges, more people will be able to see our news reporting from all over the world".
Mark Thompson, chief executive of The New York Times Company, said: "This is a chance to expand and explore whether Facebook can become an even bigger part,"
Although potentially lucrative, given Facebook's enormous, global and highly engaged audience, publishers will greet the new service with caution, because as much as Facebook will say it is not a news organisation, like Google News its algorithms will dictate how many users each Instant Article is put in front of, and how each publication is ranked. Will similar content from BBC News, the Guardian and Buzzfeed appear in the same place, or will their position vary depending on their popularity and each user's preferences, their friends' preferences and browsing history?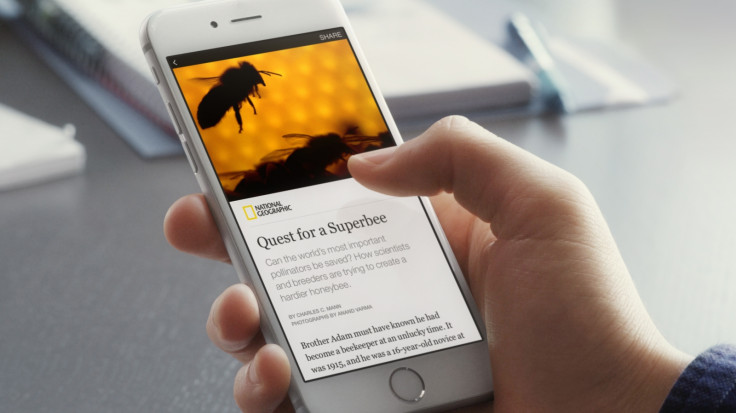 "Fundamentally, this is a tool that enables publishers to provide a better experience for their readers on Facebook" said Facebook chief product officer Chris Cox. "Instant Articles lets them deliver fast, interactive articles while maintaining control of their content and business models."
In a bid to make content more engaging, Facebook says articles load up to ten times faster than when shared in the traditional manner, and users can comment on certain parts of each article in line, or share select extracts with friends. Individual photos from each article can also be liked.
Publishers are being encouraged to create content unique to Facebook's Instant Articles service, but some - including BBC News and its Newsbeat service - will decline this option, as they want content published on Facebook to be available, in full, on its own websites.
"It is great to see Facebook trialing new ways for quality journalism to flourish on mobile," said Tony Danker, international director, Guardian News & Media. "The Guardian is keen to test how the new platform can provide an even more engaging experience for our readers. It is then vital that, over time, Instant Articles delivers recurring benefit for publishers, whose continued investment in original content underpins its success."