Donald Trump called journalists filming his campaign rally in Florida "a bunch of phoney low-lifes" with "phoney cameras" before taking on a new bogeyman — fact checkers — on Tuesday (25 October).
Fact-checkers "are really crooked as hell themselves," the Republican said, "what a group of dishonest scum."
Prominent fact checking groups like FactCheck.org and Politifact.com, both regularly pick apart statements made by the Trump and Hillary Clinton campaigns, their consultants, media spokespeople, and advisors.
"These fact checkers, they'll check facts with me and I'm like 99% right and they'll say 'and therefore he lied,'" Trump said on an airfield tarmac in Sanford, Florida.
Politifact's truth-o-meter is a sliding scale that evaluates whether statements are "pants on fire" not true to "mostly true."
A new Bloomberg Politics poll shows Trump with a 45% share of the vote and Clinton with 43% in Florida. The Republican spent two full days Monday and Tuesday campaigning in the state.
"We're getting a big, big vote in the state of Florida," Trump said a night before the poll appeared. "We're leading Iowa, we're leading Ohio, we're doing great in North Carolina. We're going to have a big victory."
All those statements are true. Trump did not mention, however, that right now he only holds 174 of the important electoral college votes needed to win while Clinton has 307.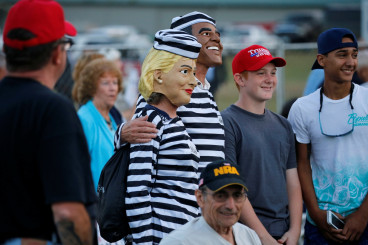 "We're fighting a crooked establishment Trump" said pointing from the podium at a row of journalists. "These are the most corrupt people."
Trump likened the media's reporting of his campaign to "voter suppression" because "people give up" when they hear negative stories.
Trust in the media in the United States is at an all time low. According to a Gallup study published in September, there was an overall 8% drop in confidence among Americans in the mass media "to report the news fully, accurately and fairly" over last year. It was the first time that confidence dipped below 40% since 2001.
That trust is especially low among Republicans, whose trust dropped by more than half, down to 14% from 32% last year.
"We together are going to drain the swamp," Trump said to the cheering Florida crowd. He promised to "investigate the investigation" of Hillary Clinton's email scandal and 33,000 emails she deleted from her private server. Clinton classified those as not related to her work as Secretary of State.
Trump called journalists "almost as dishonest as crooked Hillary" saying that Fox News had reported a small crowd gathered for the Florida rally.
He said that when he arrived "I opened the door and looked at the window and I said 'wow!' it's so different from what they report."