Republican presidential candidate Donald Trump told a rally in Florida he would like to take Vice President Joe Biden behind a barn and fight him.
While the attack might seem typical of an increasingly flounderingTrump campaign, the billionaire property mogul was responding in kind to pugnacious remarks made by Biden on Saturday (22 October), according to the Guardian newspaper.
"The press always asks me, don't I wish I was debating him? No, I wish we were in high school and I could take him behind the gym. That's what I wish," Biden said.
"I'd love that," Trump responded, referring to the vice president as "Mr tough guy". He said: "He wants to bring me to the back of the barn? Oooooooooh. Some things in life you could really love doing."
Biden, 73, provoked the bout of high school nostalgia after a tape was uncovered in which Trump, 70, made lewd remarks about women. The release of the NBC footage in which Trump brags off-camera about pursuing married women and being able to "grab" women because of his celebrity status has been a body blow to the Republican campaign.
The vice president qualified his own remarks at a Democratic rally on 24 October. "If I were in high school... I want to make it clear I understand what assault is. I'm not in high school. If I were in high school," he said.
Trump has continued to attack his Democratic rival Hillary Clinton in his race to the White House. In a recent interview with Reuters news agency he said the the former Secretary of State would start World War Three.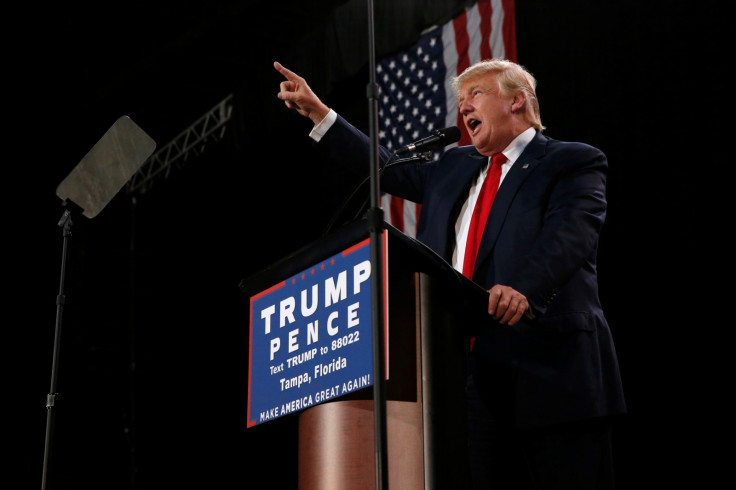 "What we should do is focus on Isis. We should not be focusing on Syria," Trump said from his Trump National Doral golf resort. "You're going to end up in World War Three over Syria if we listen to Hillary Clinton.
"You're not fighting Syria any more, you're fighting Syria, Russia and Iran, all right? Russia is a nuclear country, but a country where the nukes work as opposed to other countries that talk," he added.