A factory worker has been jailed for four months after he made threats on Facebook to stab his local MP to death.
Mark Sands of Eastbourne, East Sussex, made a "sinister and menacing" threat to kill Conservative MP Caroline Ansell in November last year.
The 51-year-old was sentenced at Brighton magistrates court on Wednesday (12 April) having previously pleaded guilty to a charge of "sending via electronic communications a message that was grossly offensive" to the Eastbourne and Willingdon MP.
Sands had posted a message that said: "If you vote to take £30 off my money, I will personally come round to your house ... and stab you to death."
A concerned member of the public reported the Facebook post to police and Sands was arrested at his home. He was questioned and admitted writing the posts and subsequently charged.
Under the heading "work" on his Facebook profile he had written, "The Killing Fields, Trainee Murderer" while under 'political views' he had written, "Kill your local MP".
Amongst other messages he had written "End poverty, kill a Tory now" and a picture of the murdered Labour MP Jo Cox also featured on his page next to the words "sawn-off 2.2".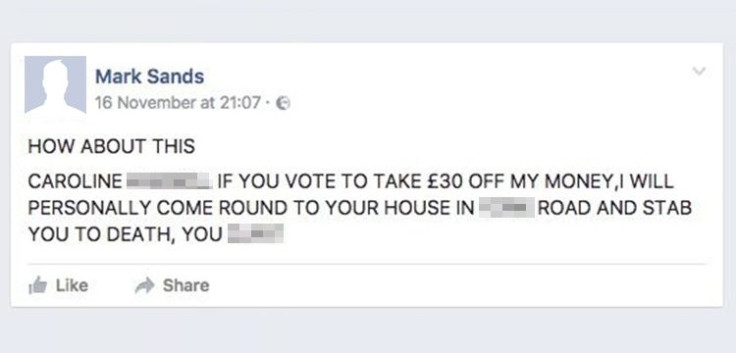 For the crown, Martina Sherlock told the court that, once arrested, Sands told a mental health nurse: "It's not like I killed her. Maybe I should".
While sentencing Sands, district judge Christopher James issued a restraining order on him not to contact Ansell again.
He said: "It was clearly designed to instil fear in her and it has succeeded in that intent by unsettling and unnerving her deeply.
"This was not an isolated incident that could be said to be out of character. This was the most extreme post in a series of derogatory posts to MPs, including Caroline Ansell".
MP's impact statement
In a victim impact statement, Ansell said she found the threats "chilling" and the abuse forced her into closing her personal Facebook account.
It was stated in court that Sands suffers from anxiety, low moods, paranoia, agoraphobia and has a "high-functioning autism spectrum condition".
Defending Sands, Madeleine Priestley said his words were "just an empty threat" and "he has apologised for the harm he has caused her and her family".
Detective Constable Dan Thomson of Sussex Police said: "People use social media to express their opinion and views, and in most cases this is fine. But many people post things they would never dream about saying in the real world or to someone's face.
"They think there is the guise of anonymity but where their posts cross the boundary into criminal behaviour we will act and deal with it robustly."