Politicians, parents, pupils, professionals, polemicists and habitual protesters have been arguing all week about grammar schools. Theresa May's proposals to expand this sector and reintroduce official selection have not been universally welcomed, even within her own party. To determine and limit the life chances of a child at 11 is deeply immoral and irresponsible.
However, this debate sucked up all the oxygen of publicity and national attention so few noticed the far more sinister and troublesome part of the PM's education plans. She is hell-bent on growing the number of faith schools because apparently, they achieve high results and churn out perfect little people. Here is what one proud assistant head, Mr Matthew Connor-Hemming says about his Coventry Blue Coat Church of England School: "The faith ethos enables students to excel in their studies, thrive in the wide range of activities on offer and develop into caring individuals with a strong desire to positively change the world around them." Yes, and grow halos too. (This quote comes from a brilliant blog by Terry Sanderson on the National Secular Society website).
In this century, religion has provoked major conflicts and wars; fundamentalisms are spreading around the world, self-regarding piety is closing off lives and minds. When I was growing up, we Muslims respected all diversities within, those from other religions and none. My mother was a devout Shia Muslim, my father an atheist.
My community had set up some excellent schools in Uganda, and I did go to the nursery. But my mother moved me to a school where I could mix with Hindus, Sikhs, other Muslims, Jews and Christians. She felt strongly that going to our community school would restrict my capacities and opportunities. She was so right. She, a barely educated woman who was orphaned young, understood the purpose of education better than Mrs May or Justine Greening do today. They seem determined to divide Britain's children by class, ability, income, race, ethnicity and religion.
I must confess here that, for many years, I ignored my mother's lesson and thought Christian schools were just what my kids needed. These establishments got high grades (we Asians are such overachievers) and taught Christian values, which would, I believed, enable my son and daughter to understand better the land they were born in. Boy, was I wrong.
A Catholic school rejected my daughter because she was mixed-race. My son did well enough at the local Church of England primary school but they refused to admit my daughter some years later. I went to the General Synod and got her in. But it was a bitter victory for she was treated like an outcast for not being religious enough. Oh, and both were almost always dark donkeys in the nativity plays. Education was good, the self-righteousness was dreadful.
Since then there has been a proliferation of more Christian, Jewish, Muslim, Sikh, Hindu schools and others too, where one distinct faith prevails. Our state is segregating the young who have to live in a globalised world, making them narrow-minded and inward-looking.
Here is an alarming fact: In 2012 a report by the Organisation for Economic Development Cooperation and Development (OECD) found that only four countries; the UK, Estonia, Israel and the Republic of Ireland, allow schools to accept and reject pupils on religious grounds. Mrs May wants more such schools and is intensely relaxed about faith-based admissions criteria. Shocking really.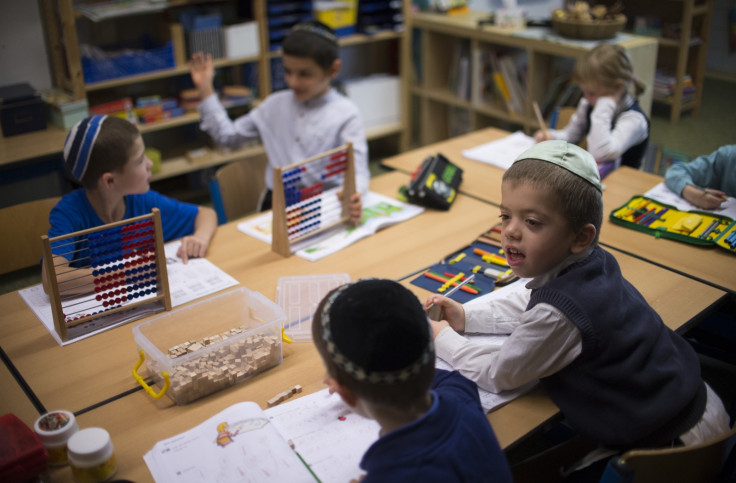 I have been to state-funded Muslim schools where the girls are fully veiled and children are taught dangerous rubbish. Some Orthodox Jewish schools train girls assiduously to be good, obedient 'wifies'. Some Church schools shamelessly encourage the pernicious idea of 'them and us'. Some Sikh and Hindu schools do not discourage anti-Muslim attitudes. Most faith schools resist sex education teaching. I know all this because I have visited, written about or made films about this subject.
Both my children were almost always dark donkeys in the nativity plays. Education was good, the self righteousness was dreadful.
Even if these were indeed brilliant, modern, forward-looking establishments, by their very nature they are denying pupils interactions with a wide spread of beliefs and cultures. I have met Sikh men at universities who went to faith schools and do not mix with secular Sikhs and object to mixed marriages. (This week some Sikh fundamentalists stormed a temple and broke up a wedding between a Sikh and a Hindu). Some Muslim schools are getting brilliant results but churning out young people who can't or won't socialise with non-Muslims.
In Northern Ireland, to this day, 18 years after the end of the Troubles, animus lingers between most young Catholics and Protestants. In separate schools, they learnt they were favoured by God, that those 'others' were sinners. Mixed schools do exist but thus far have not been able to unite communities.
Mrs May's perverse policies must be robustly opposed. Furthermore, faith-based state schools should be phased out in the next ten years. The education they impart is a betrayal of children and our collective, internationalist future.