Manchester United have emerged as the favourites to sign Atletico Madrid striker Radamel Falcao, with reports in Spain suggesting that there may already be a deal in place.
The South American has once again been in sensational goal-scoring form this season, leading to suggestions that he will be the subject of numerous offers in the summer. Chelsea and Real Madrid have been consistently linked with the striker in recent months but it seems as though United are now the favourites.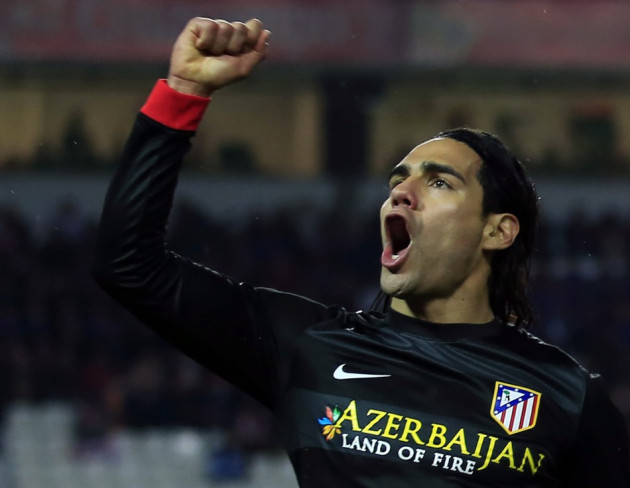 Spanish newspaper Marca has reported that Manchester United have already made a down payment in an effort to prove their interest and to move ahead of any rival clubs.
They claim that the deal is similar to the one that saw goalkeeper David de Gea make the move to Old Trafford in the summer of 2011 as a deal had been struck long before the move eventually took place.
While De Gea eventually moved for a fee of around €20million, it is believed that Falcao would command a significantly higher figure, believed to be close to €50m.
United are certainly not short of attacking options and can boast four international strikers in Javier Hernandez, Robin van Persie, Wayne Rooney and Danny Welbeck. However, there has been plenty of speculation that Sir Alex Ferguson is still in the market as Borussia Dortmund forward Robert Lewandowski remains heavily linked with a move to Manchester.
There has been rumours that Wayne Rooney could leave at the end of the season but these have been denied by both the player and the manager.
Nevertheless it would seem Ferguson remains unhappy with his options with reports suggesting that United have already begun discussions with Atletico.
Falcao has scored 22 league goals in just 26 games this season and is already just two short of his tally from last season. In fact the Colombian has a superb record ever since moving to Europe, having scored 136 goals for Porto and Atletico over four seasons.
At 27-years-old he is still in the prime of his career and it seems inevitable that he will look to join a club regularly competing for major honours both domestically and in Europe.