Fear of execution by Isis is forcing parents fleeing the warzones in Iraq's Mosul to either sedate their children or tape their mouths to keep them silent, aid groups working in the region reportedly said.
Hundreds of people are being evacuated everyday from west Mosul, which is the current battlefield between Iraqi government forces and the jihadists.
However, thousands of people trapped in Isis-held areas are still struggling to escape the heavy fighting. Humanitarian bodies have already flagged concerns about the increasing civilian death toll in the clashes and air strikes conducted by US-led coalition forces.
"Families often leave at night and in the early hours of the morning and have to walk with their children. The kids get tired and if they cry it's very difficult," Hala Jaber of the International Organization for Migration told the Thomson Reuters Foundation by phone from Erbil, east of Mosul. She added that if caught fleeing, Isis fighters shoot the men while leave the women tied outside in the cold to scare other residents.
"Families are sometimes putting duct tape on their children's mouths or even giving them Valium or tranquilisers just to keep them quiet so that they are not found out by Isis and captured or shot," she explained, citing the stories that their staff have heard from families in other Isis-held areas in Iraq.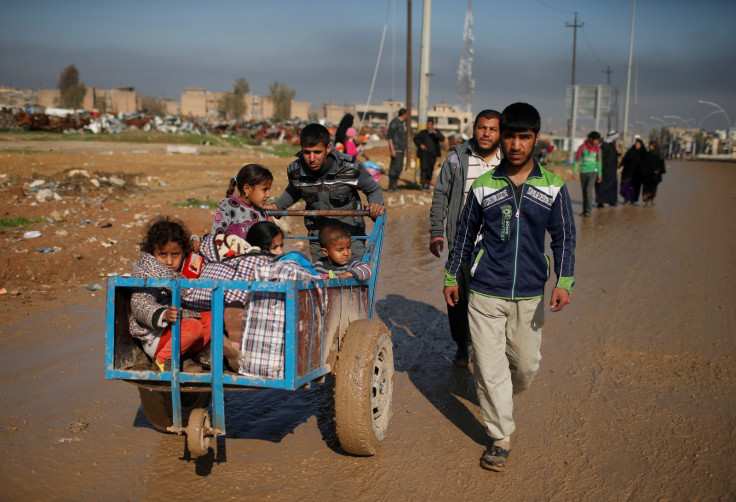 Amy Christian, an Oxfam spokeswoman in Iraq, also said that such incidents take place in the region, with "very traumatized, hungry, dehydrated and completely exhausted" civilians reaching their humanitarian bases.
"My family gave drugs to the young children," teenager Noor Muhammed who escaped with 27 people told Oxfam in a statement. "Parents gave sleeping medicine to their children so they wouldn't be horrified by the fighting; also, (so that) when they ran at night under the darkness they wouldn't be found because of the children," Muhammed added.
Iraqi government forces are currently pushing deeper into western Mosul after having liberated the eastern part of the former Isis stronghold. Nearly 600,000 people are feared to be trapped in the warzone with severe crisis of food, water, medicines and other essentials leading to a grave humanitarian crisis, Reuters wrote, citing aid agencies.