Trump administration set to host 68 countries for first major anti-Isis summit
The meeting is expected to focus on how to help rebuild Mosul and ways to eliminate Isis in Libya, Syria and elsewhere.
President Donald Trump's administration is set to host the largest gathering of the coalition the US formed to take on the Islamic State (Isis) terror group on Wednesday (22 March). It will be the first such meeting since Trump took charge of the White House in January.
Secretary of State Rex Tillerson will host the meeting in Washington with foreign ministers from 68 countries in the Global Coalition to Counter Isis. It is thought to be the first time representatives from all these countries are coming together to meet since December 2014.
It is also the first meeting of the international coalition since the forces of Iraqi Prime Minister Haider al-Abadi's government liberated eastern Mosul and recaptured several Iraqi cities from Isis in the past few months, Reuters noted.
The meeting is expected to focus on how to help the Iraqi government in rebuilding Mosul and ways to eliminate the Isis caliphate in Libya, Syria and elsewhere. The ministers are also likely to discuss ways to put pressure on terror organisations that claim allegiance to Isis in countries like Egypt and Libya.
Besides, it will discuss steps to deal with foreign fighters who return to their home countries after Isis' hold on its territory falls apart in Syrian and Iraqi cities, ABC news reported.
US State Department acting spokesperson Mark Toner on Monday (20 March) said the meeting is "a way to accelerate and focus more on how we can accelerate our efforts". However, it is unclear what acceleration the US is looking at but Tillerson "will come with new ideas and new approaches" and a new way of looking at how to defeat Isis, Toner said.
The countries participating in the meeting include the UK, France, Germany, and US' regional allies like Iraq, Turkey and Jordan, as well as other key allies like Australia, Japan and Afghanistan. Russia will not be present at the summit as it is not part of the global coalition.
US defence chief James Mattis will also be joining the meeting to oversee a review of the US strategy against Isis for the White House.
On 21 March, Trump had vowed that the US' fight against the militant group would be one of the main priorities of his administration and called the Pentagon and other agencies to come up with a plan to defeat the group.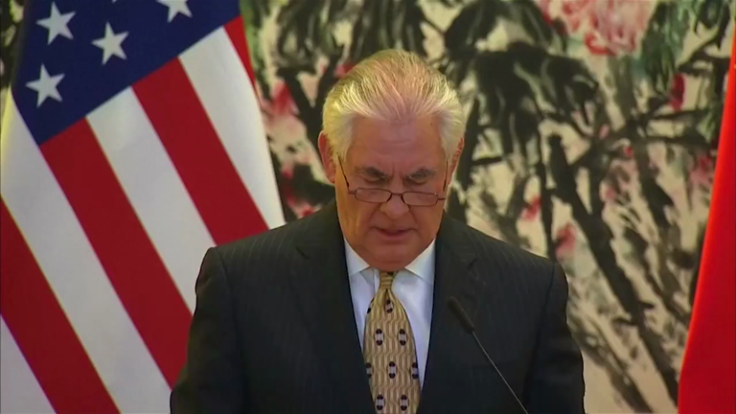 While Isis has been outnumbered in several Iraqi cities by the US-led coalition forces, it is still using suicide attackers and snipers to retain its remaining strongholds.
Abadi, who met Trump in Washington on Monday, said he had won assurances of more US support in the war against Isis.
A White House statement after the meeting said both Trump and Abadi agreed that "terrorism cannot be defeated by military might alone", and the two leaders called for deepening commercial ties.
© Copyright IBTimes 2023. All rights reserved.