Families of missing Argentine submarine crew protest the end of the search effort
Relatives of the 44 crew members called on President Mauricio Macri to meet them at the port of Mar del Plata.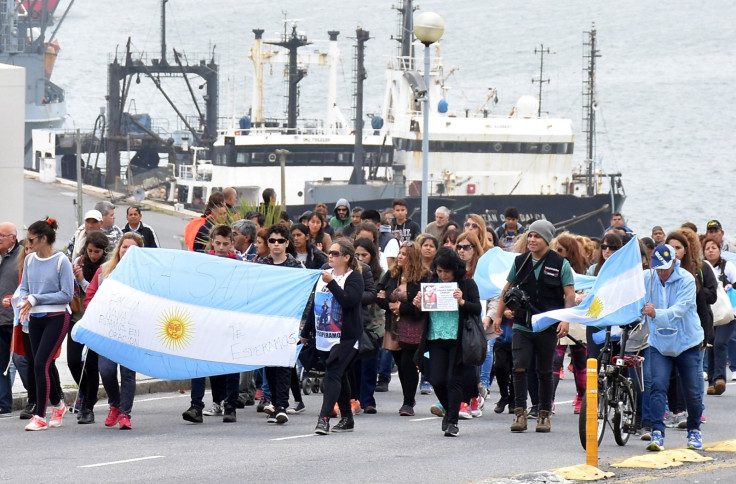 Relatives and friends of the 44 crew members of a missing Argentine submarine protested against the government in Buenos Aires for giving up the search for survivors. Argentina's navy said there is no hope of finding the crew alive.
Dozens marched through the streets of the port of Mar del Plata demanding the rescue effort be resumed, the BBC reported. Protesters held photos of the crew and chanted "Search and Rescue!"
"Our disagreement is with the government, not with the navy," Marcela Moyano, wife of crew member Hernán Rodríguez, said during the protest, Reuters reported. "Whoever is responsible needs to be held responsible."
Family members have also called for President Mauricio Macri to come talk to them. "He [Macri] needs to be here because this is the priority, there are 44 families behind this situation and someone has to be in charge," said Marcela Fernández, wife of Alberto Sánchez.
The families claim they were not told before the general public that the rescue effort was being given up. They also demand to know why they were not told for days about reports of an explosion near the submarine's last recorded location.
Macri has pledged a full investigation into what happened to the submarine to address families' concerns.
Search for the wreckage is still taking place in the South Atlantic, a naval spokesman said. A Russian-owned unmanned search module is searching shapes detected by sonar on the sea bed that could be the wreckage.
The ARA San Juan went missing on 15 November. Spokesman Enrique Balbi said 30 November that the submarine had air supplies for a week, while 15 days had passed since it had last reported its position.