The relatives of a British woman who travelled to Syria to join Islamic State have expressed their "horror and anger" that she may have played a role in three London schoolgirls going missing.
Shamima Begum, 15, Kadiza Sultana, 16, and Amira Abase, 15, were pictured on CCTV at Heathrow Airport on Tuesday, February 17, where they boarded a flight to Istanbul, Turkey. They are believed to be travelling to join Islamic State in Syria.
Families of the girls have appealed for them to return home.
Two days before going missing Begum tweeted to Aqsa Mahmood, a schoolgirl from Glasgow who travelled to Syria to join Islamic State in 2013.
"Follow me so I can dm (direct message) you back," she tweeted to Mahmood on 15 February.
In a statement released through their lawyer, Mahmood's family expressed their dismay that she may have played a role in the schoolgirls going missing.
"You are a disgrace to your family and the people of Scotland, your actions are a perverted and evil distortion of Islam," said the statement.
"You are killing your family every day with your actions, they are begging you to stop if you ever loved them."
The family also criticized security forces for allowing the girls to travel to Istanbul, using the same route as Mahmood when she travelled to Aleppo, Syria, through Turkey to become a "jihadist bride".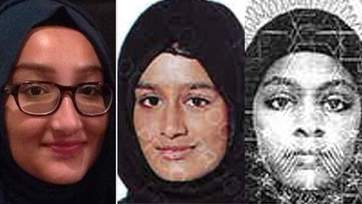 "The security services have serious questions to answer," the family added.
"Aqsa's social media has been monitored since she disappeared over a year ago, yet despite alleged contact between the girls and Aqsa, they failed to stop them from leaving the UK to Turkey, a staging post for Syria."
They said that despite the UK government's rhetoric against Isis, it had not taken "basic steps to stop children leaving" to join the Sunni extremist organization.
The three girls, who are all pupils at Bethnal Green Academy and described as "straight A students", travelled to Turkey after telling their families that they were going out for the day.
Their families have made public appeals for them to return home.
Shamima's family said: "Syria is a dangerous place and we don't want you to go there. Get in touch with the police and they will help to bring you home.
"We understand that you have strong feelings and want to help those you believe are suffering in Syria.
"You can help from home, you don't have to put yourself in danger. Please don't cross the border."
Kadiza's family said: "In your absence, we, as a family, are feeling completely distressed and cannot make sense of why you left home.
"Due to the speculation that you may be travelling towards Syria, we are extremely worried about your safety."
And Amira's family said: "You are strong, smart, beautiful and we are hoping you will make the right decision. We miss you more that you can imagine."
It is not known if the girls have yet entered Syria.
It has emerged that the police questioned the girls in December, after another pupil at the school travelled to Syria to join Isis, but the girls were not placed under surveillance.