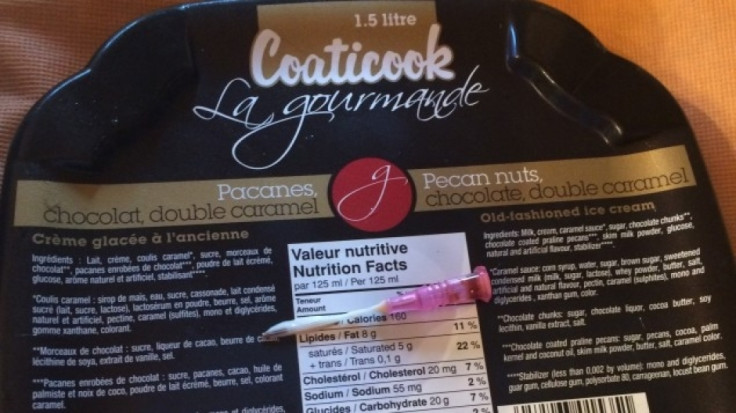 A Quebec family is taking HIV tests after a grandfather found a syringe in an ice cream tub they were all sharing.
The Christoffersons were enjoying a family gathering to celebrate the birth of their first grandchild. For the occasion they had bought some Coaticook brand "old fashioned" ice cream, with pecan nuts and chocolate. While three other members of the clan were already enjoying some scoops, the family's grandfather chewed on something hard.
After extracting it from his mouth, he realised he was actually chewing on a piece of catheter. According to the family's grandmother, there was something brownish on the tip of the syringe. The family was unable to determine whether it was caramel or coagulated blood.
"He's the worst off, the most affected. He's not even been able to speak about it," said one of the family members, Carole-Anne, speaking to Radio-Canada. "He put it in his mouth and found the tip of syringe."
The family was then told by a Canadian health-line to go to the hospital, where they would be tested for HIV, as well as for Hepatitis A, B and C.
In addition to this battery of exams, the family will have to undergo other blood tests for a period of six months before hopefully being cleared.
They have already complained to the ice cream maker and haven't ruled out legal action.
Coaticook said it had launched an internal investigation into the matter. Meanwhile, the ice cream producer stressed it was the first time the company had encountered such an incident. Thanks to video surveillance, it is believed it should be able to pin down the exact date this particular batch was made.
The company attempted to reassure its customers that it was still safe to eat their ice cream. Coaticook's owner Jean Provencher said: "We have so many internal controls here and in food production in general, that having something like that show up in a food item, it's not normal."
There have been other cases of potentially dangerous objects found in food or drink containers in the past. In March 2017, human waste detected in some cans urged a Northern Irish Coca Cola plant forcing it to shut down its operation immediately. The Food Standards Agency, FSA, had concluded that there was no evidence that "any affected product has reached the market".