Madonna left her fans a little perturbed after she shared a 'creepy' video of herself singing a Valentine's message.
Despite being sick as a parrot, the 58-year-old wanted to wish her 8.7 million followers a happy Valentine's Day (Tuesday 14 February).
Recording the video of herself singing while in bed she captioned the clip: "Sick Girl in bed in. Her nightgown. Not sung well but done with [love]! Happy Valentine's Day!!"
While her most ardent fans were in raptures to receive the Valentine's Day love message from the music icon, some were less enamoured with the video.
"Just me or a bit evil looking?" wrote one commentator. "Omg so creepy," said another.
"U know she was drunk when she sang to us right? Sorry madonna I love u but ur eyes are bloodshot red," another critic observed.'
Meanwhile her fans took to social media to jump to her defence writing: "'Madonna, how do you feel sick , but still look gorgeous??? there must be secret-)) Get Well Soon XXX."
Another said: "In bed with a sick Madonna would be a better Valentines Day date than a restaurant with any other chic. Much love to you."
It's been a hectic month for the singer, 58, who recently returned from Malawi after adopting twin daughters - Esther and Stella, following a two-year-long adoption process.
The Material Girl singer went public with the happy news, sharing a picture on Instagram of herself walking hand-in-hand with the two girls.
In a statement she said she was "overjoyed" and grateful to those who made the process possible.
"I can officially confirm I have completed the process of adopting twin sisters from Malawi and am overjoyed that they are now part of our family," she said.
"I am deeply grateful to all those in Malawi who helped make this possible and I ask the media please to respect our privacy during this transitional time.
"Thank you also to my friends, family and my very large team for all your support and love!" she added.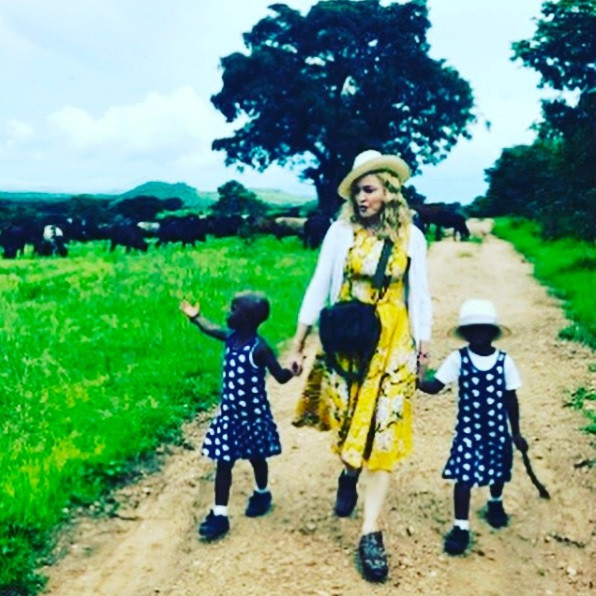 Madonna previously adopted Malawian children David Banda and Mercy James in 2006 and 2009. The pop icon has two other children, Lourdes and Rocco, from previous relationships.