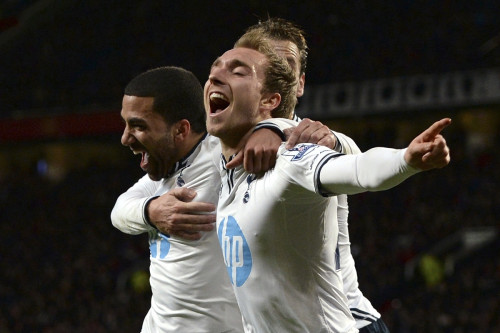 After outspending every other club in the Premier League during the summer, what do Tottenham Hotspur have planned for January? Seven new players arrived at White Hart Lane in an unprecedented overhaul, but as former head coach Andre Villas-Boas predicted, those new additions have taken their time gelling together in what has been a peculiar season for the north Londoners.
To determine what the club should be doing with themselves away from the pitch over the next few weeks, IBTimes UK have spoken to The Fighting Cock, proud Tottenham podcast, fanzine and website. Anthony Lombardi takes us through what Tim Sherwood, Franco Baldini and Daniel Levy might get up to in order to ensure their club are fighting amongst the top four in the coming months.
What areas of the side are in need the most strengthening?
Anthony: It's difficult to pinpoint where we need players when we don't really know what formation we are supposed to be playing. Historically Spurs always seem in need of a left back and a striker, but in reality what we need more is our injured players back playing.
If we were to dip into the market though I would like us to sign another Argentine to be best buddies with Erik Lamela and help him settle.
What players would you like to see brought in to fill those roles?
Anthony: Angel Di Maria isn't getting on with the Real Madrid fans and does a mean Michael Jackson impression, perhaps we could use Luka Modric and Gareth Bale to tap him up. Also we have a special friendship with Madrid, it's time to see some players coming this way.
Di Maria would also slot perfectly into the role as the roomie and best friend for Lamela.
Failing that, Andrea Pirlo's contract is up soon. Spurs have never had a good Italian before, plus he can take a corner and since AVB left we are in desperate need of a proper beard.
How optimistic are you of a successful window?
Anthony: I thought we would push for the title, I thought AVB would be our manager for a decade and I thought we would have a new stadium by now. I am possessed by optimism. This will be our best transfer window ever.
Any dead wood? Do the club need to offload anyone who isn't pulling his weight?
Anthony: Despite doing okay in the Premier League, there are one or two who need to do better. Hopefully 2014 will be their year. Regarding sales, with Jermain Defoe on his way to Toronto and Emmanuel Adebayor discovering he can play football, I don't really have anyone else in my cross hairs. Keep all of them.
How important is the January transfer window to the club's ambitions for this season?
Anthony: Not that important. With seven new players struggling to find their feet, another group of bewildered lost souls wandering round the training ground wouldn't be at all helpful.
Do you believe the manager will be backed in his hopes (if any) of adding to the squad?
Anthony: The question should be; will Franco Baldini be backed? It's very doubtful, a loan signing, possibly a knock-off striker (will come in). Baldini won't be swimming in money this January.
Are there any other issues away from the transfer window the club need to address in the New Year?
A manager, a stadium, a way of playing football and StubHub. Just one or two things to sort out this year.
Follow The Fighting Cock on Twitter for all their Spurs news and podcast releases.