Ahead of the DVD and Blu-ray release of Fantastic Beasts And Where To Find Them in just a few weeks' time, Warners has unveiled a deleted scene which sees lead characters Queenie (Alison Sudol) and Tina Goldstein (Katherine Waterston) reciting the anthem of Ilvermorny School of Witchcraft and Wizardry. And it's pretty darn sweet...
Originally, the sequence occurred when the witch sisters were helping Newt Scamander (Eddie Redmayne) and Jacob Kowalski (Dan Fogler) tend to the former's magical creatures inside his even more magical briefcase, and the foursome begin debating which wizarding school is the best in the world. The song was in fact written by Sudol, who is a singer-songwriter outside of her acting work.
While it was only briefly touched upon in the film franchise – and therefore may have been missed by some – readers of the Harry Potter books will know that Hogwarts had its own song too; Hoggy Warty Hogwarts. It was usually recited by the students during the Welcoming Feast at the beginning of every new school year. Chances are Ilvermorny's was sung at a similar time.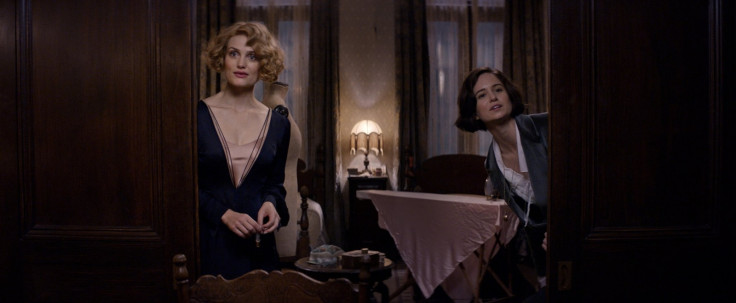 The Goldstein sisters singing their former school's ditty isn't the only deleted scene that fans should expect to see featured on the home entertainment versions of the movie either. This might seem like a huge surprise to those who have seen Fantastic Beasts – considering that Credence (Ezra Miller) seemingly died in the film's final scenes – but back in November 2016, producer David Heyman revealed to CinemaBlend that Credence actually survived. He explained that the character was even seen "getting on a boat somewhere else" in a scene that was edited out of the film's final cut. Time will tell whether it makes it onto the DVD though...
Set in the 1920s, Fantastic Beasts And Where To Find Them follows Newt as he travels all around the world in an attempt to document unknown magical creatures. However, the wizarding magizoologist soon finds himself having to rescue a number of his animal-like discoveries before they are hunted down by No-Maj's (the American term for muggles). The movie is currently slated to be released on DVD, Blu-ray and VOD on 27 March in the UK. It will reportedly reach the US the following day.
For more entertainment news follow A-List on Twitter @Alistinsider