Far-right Front National leader Marine Le Pen has hailed Donald Trump's US election victory as "an additional stone in the building of a new world destined to replace the old one."
Appearing on The Andrew Marr Show on Remembrance Sunday, the French politician said the Republican's rise to the White House would boost her chances of winning the presidential election next year. "I wish that in France also the people upend the table, the table around which the elite are dividing up what should go to the French people," she said.
Le Pen said Trump's electoral success "made possible what had previously been presented as impossible," and vowed to pounce on the "global revolution" triggered by Brexit to propel herself to the French presidency.
"We have to compare this [Trump's] victory with the rejection of the European constitution by the French people – of course, with the Brexit vote, but also with the emergence of movements devoted to the nation," said Le Pen.
"All these elections are essentially referendums against the unfettered globalisation that has been imposed upon us ... and which has today clearly shown its limits."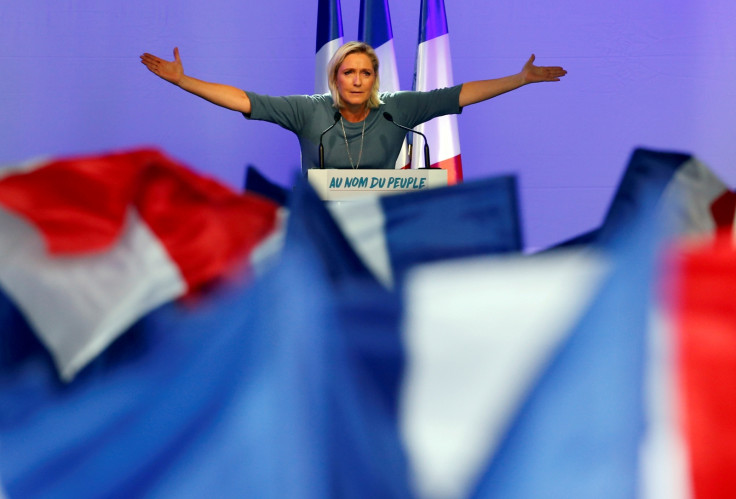 The Front National has long been criticised as a racist party, but Le Pen strongly disputed these claims when challenged by Marr over comments made by her father – the party's founder – describing the Holocaust as a "detail of history".
"Listen, I cannot let you say something so insulting," Le Pen retorted. "As it happens, the National Front has never been guilty of racism and, in fact, I would like you to tell me exactly what sentence, what proposal in our program, is a racist proposal.
"Unless you consider, as I know the elites wish to do and have done for a long time, that all those opposed to mass immigration are racist," she added.
"I disagree, I don't think it's racist to say we cannot take in all the poverty of the world, we cannot take care of hundreds of thousands of people arriving here, because our first obligation is to protect the French people and establish solidarity among the French people. I don't see how that's racist."
The timing of the broadcast with Le Pen angered a number of politicians and some social media commentators, who accused the BBC of "normalising fascism." Labour's Tristram Hunt said: "[...] It is pretty grotesque to have Marine Le Pen on #Marr on Remembrance Sunday", while Shadow Education Secretary, Angela Rayner described it as "so wrong."
Defending the decision to air the interview, Marr said: "Some people are offended and upset that I have been to interview Marine Le Pen and that we're showing this interview on Remembrance Sunday."
He added: "I understand that but... Le Pen could, under some circumstances, become the next French president... I don't think that the best way to honour the fallen is to fail to report on the next big challenge to western security."