Members of the far right group Britain First have "invaded" a mosque in south east London demanding that 'sexist' signs be removed from the entrances.
In a video the activists can be seen confronting an elderly Imam at the Crayford mosque over the separate "brother" and "sister" signs – threatening him by saying "when you respect women – we'll respect your mosques".
Former Swanley BNP councillor Paul Golding told him: "We object to your signs that are outside for men and women. In this country we have equality."
When the concerned Imam asked him and the others to remove their shoes out of respect for Allah, Golding pressed: "Are you listening?"
The North West Kent Muslim Association conducts acts of worship based on gender separation like most mosques in the UK.
The group then asked the Imam to "cover up" a huge cross on the front of the building, saying "it's offensive to us".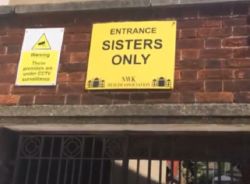 A statement on the group's website under the headline: "Britain First Activists invade Crayford mosque", said: "Islam treats and views women as second-class citizens.
"Britain First will not allow Islam to drag our standards back to the 7th Century."
Mosque volunteer, Syed Alam, told the News Shopper: "They are filthy people creating trouble in our society.
"They were very aggressive and threatening. The signs are our religious policy.
"They are making trouble for nothing. We have been here since 1997 and we have good relations with local people."
Britain First is the most active far-right group to emerge since the collapse of the BNP and EDL. Its Facebook page has more than 350,000 "likes" - making it more popular than the Conservatives, Labour and Liberal Democrats.