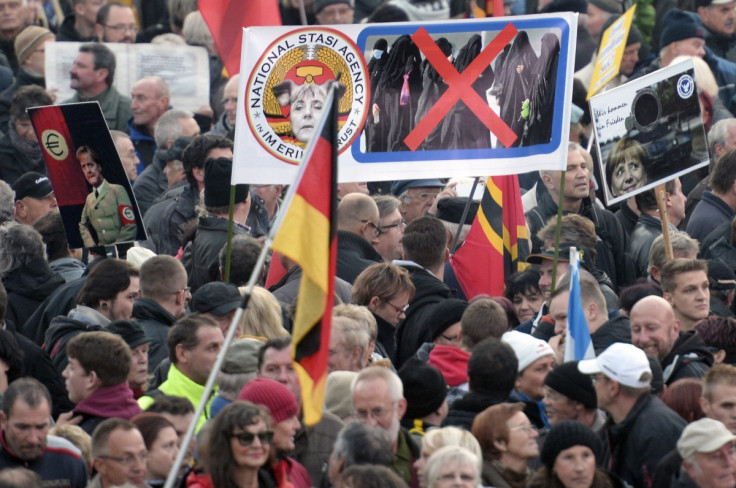 Far-right "counter-jihad" networks are using economic insecurity, the migration crisis and terror attacks to whip up anti-Muslim hatred across Europe and North America, an anti-racism group has warned in a report.
In the study entitled The Counter Jihad Movement, the Hope Not Hate group charts how far right groups seeking the expulsion of all Muslims from western countries have exploited and fostered rising distrust of Muslims in the hope of sparking violent confrontations.
The report comes as the Met Police announced that attacks on Muslims in London tripled in the wake of the 134 November terror attacks in Paris.
Only four years after the terror attacks in Oslo, Norway, by far-right extremist Anders Breivik that left 77 people dead, the report finds far-right rhetoric is entering the political mainstream in both Europe and the US, with Miloš Zeman, the President of the Czech Republic, attending a rally by far-right group Pegida in Prague, and Republican presidential candidate Donald Trump calling for the compulsory registration of all Muslims in the US.
The report states networks of 920 far-right activists and organisations across 22 countries are using the internet and social media to spread Islamophobia internationally, and building ties across borders, with former EDL leader Tommy Robinson announcing this week plans to start a branch of the German Pegida anti-Islam group in the UK. Robinson had previously declared himself a changed man, after discussions with the Quilliam Foundation.
Hope Not Hate describes how anti-Islam activists have attempted to spark violence through organising provocative Mohammed cartoons contests, such as one Robinson attempted to organise in the UK earlier this year, and one organised in Texas by anti-Islam blogger Pamela Geller, which was attacked by Islamic extremists who were shot dead by police.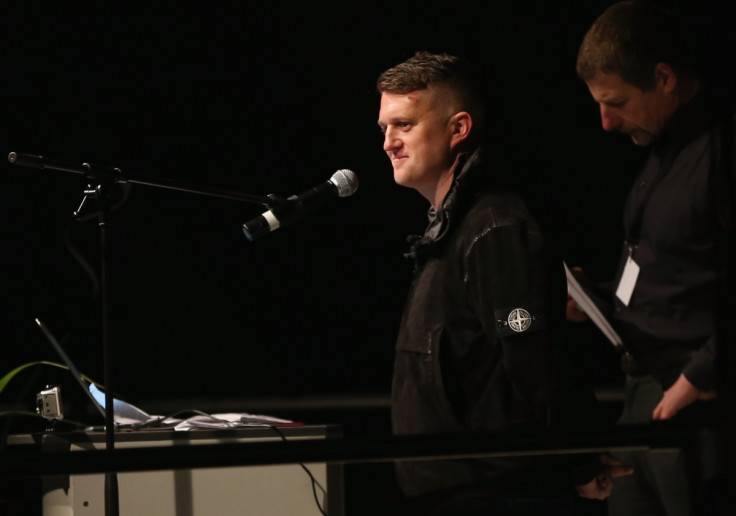 "This Counter Jihad Movement believes that Islam is an existential threat to the West and is incompatible with Western society and you can't distinguish between jihadists and ordinary followers of the faith because Islam is a supremacist faith," Nick Lowles, one of the authors of the report, told IBTimes UK.
"They believe there will be a confrontation between Islam and the West and there can be no accommodation so the only solution can be to expel followers of Islam from Britain and Europe. Wider events such as the formation of Isis, the migration crisis and the Paris attacks have crystallised it all together. These people feel their time has come, they have been proved right."
The report comes with anti-Islam far right parties increasing in popularity, with Pegida rallies in Dresden drawing tens of thousands, Front National leader Marine Le Pen a possible future president, and Dutch far-right politician Geert Wilders surging in the polls.
In the UK, there have been a series of hate crimes against Muslims in recent weeks, with 24 Islamophobic incidents recorded in the week prior to the 13 November attacks, and 76 recorded two weeks after.
A 2014 Pew Centre Study found that the majority of respondents in Greece, Poland and Italy had negative views of Muslims, while a 2015 YouGov poll found Muslims to be the least tolerated minority group in Europe after the Roma.
'Ban the EDL' call
Lowles called for the government to ban anti-Islam groups like EDL and Pegida.
"It is basically racism, it's hatred, it's is inspiring people to commit racist attacks and inspiring it all is this idea of violence and civil war," he said. "We have to understand the danger, and I don't think the police do."
Fiyaz Mughal, director of the Tell Mama anti-Islamophobia group said: "The Hope Not Hate report neatly lays out what we know and that is there is an organised, well-funded and well developed 'Counter-Jihad' network of anti-Muslim speakers, bloggers, media and security consultants whose role it is, to spread fear and mistrust against Muslim communities as a whole.
"Whilst some talk the talk of being against 'radical Islam'," he continued to say, "their masks slips as they object to Muslims as a whole and spread the language of hate against Muslims as though they are not human and that they deserve to be treated harshly and with lesser rights than other people in the Europe and the US."
A Department for Community and Local Government spokesperson said: "Islamophobia and hate crimes of any kind are unacceptable and completely incompatible with British values.
"The government will not stand for groups like the English Defence League, who try to stoke up anti-Muslim hatred, or those who pervert Islam to preach extremism. Those who perpetrate hate crimes of any kind will be punished with the full force of the law."