The masked swordsman, who rampaged through a school in Trollhättan, north of Gothenburg, Sweden, posed for photographs with unsuspecting students, moments before carrying out the attack. One teacher and one student were killed in the attack at Kronan School, with two other students seriously injured. The swordsman, named in reports as 21-year-old local man Anton Lundin-Petterson, was shot by police and later died.
The student who took the photograph said she had left her classroom to find a pen, when she saw two other students stood next to a man in a Darth Vader mask and Nazi-like helmet carrying a knife which appeared to be covered in blood. Her friends thought he was wearing a Halloween outfit and asked her to take a photograph.
Shortly afterwards, the student, "Sara," told Sweden's Aftonbladet newspaper, a teacher emerged from a classroom and asked the masked stranger to leave because he was scaring the children. She added: "He just nodded, then he plunged the large knife into the teacher's right side. The last thing I heard him say was 'call an ambulance'."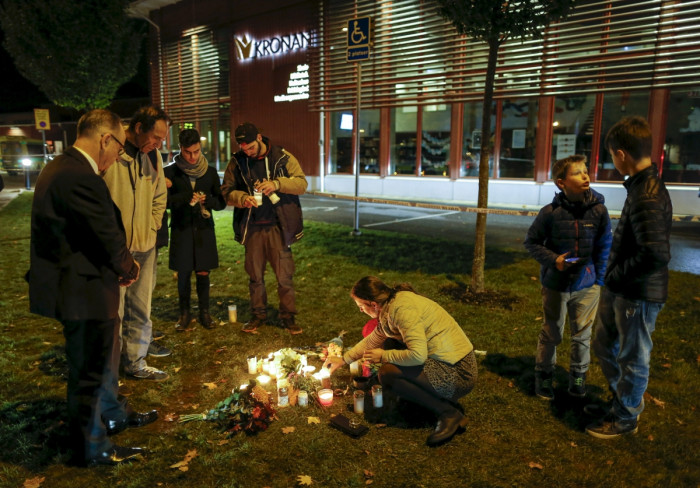 The student who died, was 17 and the male teacher, 41. The two students who survived the attack aged 11 and 15, are said to be critically ill in hospital. Several knives were used in the attack.
Police have not yet commented on a possible motive for the attack, though the school - which Petterson didn't attend - serves a diverse multicultural community. Petterson's online profile includes "likes" for Far Right organisations. According to Swedish news outlet "Expo", he "liked" videos supporting Nazi Germany and on Facebook appeared sympathetic to calls by the Sweden Democrats party for a referendum on immigration.
Sweden's Prime Minister Stefan Löfven called the attack "a black day for Sweden". The Swedish royal family heard the news "with great dismay and sadness."