Far-right Pegida left red-faced over Kinder bar images of German footballers as children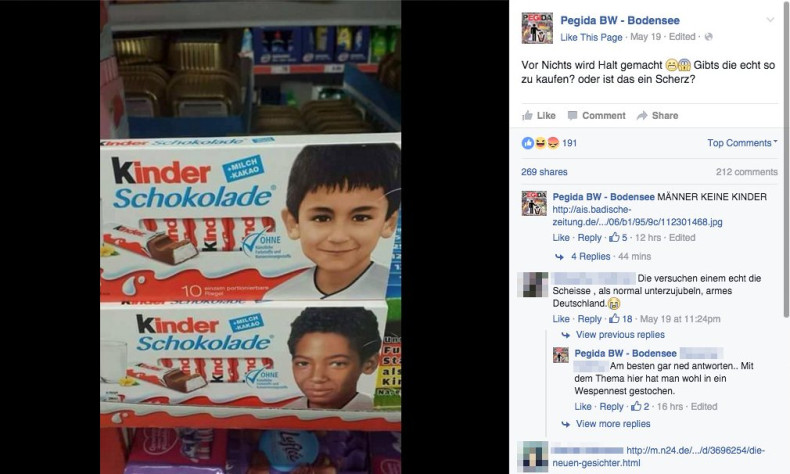 A branch of the anti-Islam group Pegida objected to sweet packets with photographs of black and Middle Eastern children – only to find the pictures were of German national side footballers as young boys.
"They'll stop at nothing," Pegida's branch at Bodensee in Baden-Württemberg wrote on Facebook, alongside a picture of the Kinder chocolate bar packets. "Can you really buy them like this?"
Supporters of the anti-immigrant protest movement were furious that the company seemed to have abandoned the images of blue-eyed blond children it usually uses on its branding.
"They're trying to pass this s**t off as normal, poor Germany," one commenter responded. "This must be a fake, no?!?!?" another wrote.
The supporters of the group had failed to realise the pictures were of stars from the German national football team, nicknamed 'Die Mannschaft', when they were younger. They were featuring on the packets to celebrate the upcoming Euro 2016 football tournament in France.
The pictures depicted midfielder Ilkey Gundogan, the German-born son of Turkish immigrants, and Bayern Munich defender Jerome Boateng, whose parents are Ghanaian. The national side is the most multicultural in the country's history, with stars including Turkish-German forward Memet Ozil among those who led the team to glory in the 2014 World Cup.
They have been hailed as a symbol of Germany's 'Generation M', or Generation Multiculti, many of whom would not have been allowed to play for the national side before naturalisation laws were reformed in 1999.
The recent influx of refugees and immigrants into the country has reignited the debate over multiculturalism and the capacity of the country to absorb the new arrivals, many of them Muslims fleeing conflict in Syria. Anti-immigrant groups, such as Pegida, have seen support surge in recent months, though attendance at their rallies in Dresden has declined slightly in recent months.
Some supporters expressed their displeasure at the make-up of the international side when the identity of the children was pointed out. "You mean 'die Mannschaft'? There's nothing national about them any more," wrote one commentator. "These are gladiators – therefore slaves – who don't play for Germany out of conviction, but only for the money."
Italian Kinder owners Ferrero said it had no connection with the website and did not endorse the comments: "Ferrero would like to expressly distance itself from all kinds of xenophobia and discrimination."