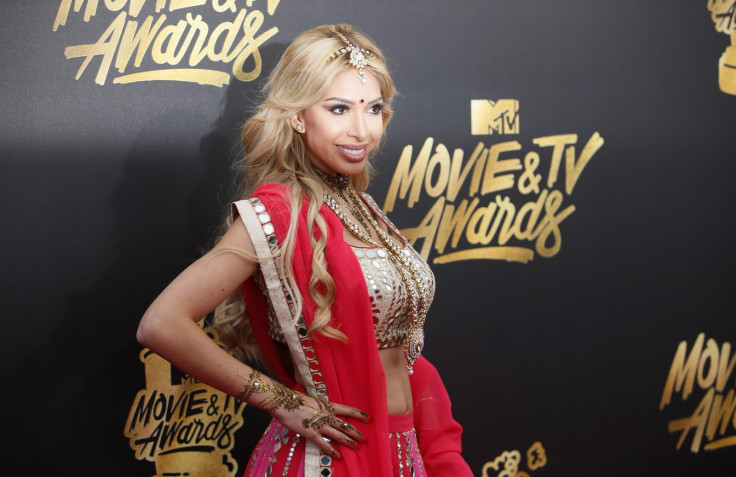 Farrah Abraham's red carpet appearance made heads turn at the star-studded MTV Movie and TV Awards for her Bollywood inspired dress instead of a regular designer outfit that suits the occasion. The reality star, however, invited ire for "cultural appropriation" for adopting the Indian look for the award ceremony.
The Teem Mom star chose to wear a dazzling crop blouse or 'choli' along with a pink and gold floor length skirt (known as a 'lehenga' in India) and an embellished scarf. She finished the glittery Indian look by wearing a red bindi on her forehead, gold headpiece and necklace.
Soon after her arrival at the starry event, Twitter went into a meltdown and slammed her for wearing a 'costume' during the award ceremony.
"This is nothing to be proud of... using the cultural Indian outfit as a fashion statement is so insulting to those who truly take their cultural to heart and worship the beauty of it way beyond the fashion aspect of it all. You're so strange," a fan commented on Abraham's Instagram post where she posted series of pictures from the MTV event.
"As Indian women...this is disgusting. Shame on you for representing the Indian culture like this. Worst person alive and worst dressed," another user commented on her controversial choice of attire.
The mother-of-one however, does not seems to be bothered about the backlashes and revealed that she felt 'freaking amazing Bollywood and sexy" in her outfit. '
"I wanted to bring culture to the red carpet. I think this will inspire others to embrace new cultures and have good experiences," she told TooFab while defending her controversial look.
Here is how fans reacted to Abraham's MTV Movie and TV Awards red carpet look:
But the reality star also received positive feedback from few: