Fashion world praises Pippa Middleton's wedding gown
Designed by Giles Deacon the cap-sleeved ivory dress was described as 'romantic and very English.'
Pippa Middleton's choice of wedding gown has been met with widespread approval from the fashion world.
As she arrived at St Mark's Church for her wedding to financier James Matthews, the 33-year-old looked radiant revealing the first glimpse of the dress.
Designed by Giles Deacon the cap-sleeved ivory dress combined the traditional with a touch of modern styling featuring a flattering corseted bodice. With a high neck and a keyhole back detail the entire gown was constructed from bespoke lace detailing.
The gown was accessorised with a Stephen Jones pearl-studded veil, a Maidenhair Fern tiara and Manolo Blahnik shoes.
Known for his experimental style, Deacon's dress was more conventional than expected but elegant. Describing how he approached the task of designing a dress for the Duchess of Cambridge's sister, Deacon told The Business Of Fashion website: "I wanted that 'how-was-that-done?' factor."
"It's all hand-pieced which is why you don't actually see a seam."
According to Sky News he revealed he took inspiration for the dress from the Italian film The Leopard.
"I know they were all hoop crinolines in the film, but there's something gorgeous about having that great movement, with the skirt spinning round, keeping its shape."
Fashion commentators have been offering their critiques of the dress with David Emanuel, who also designed Princess Diana's wedding dress, commenting: "It's simple and pretty. I predicted it would be soft and pretty and very English, which it is."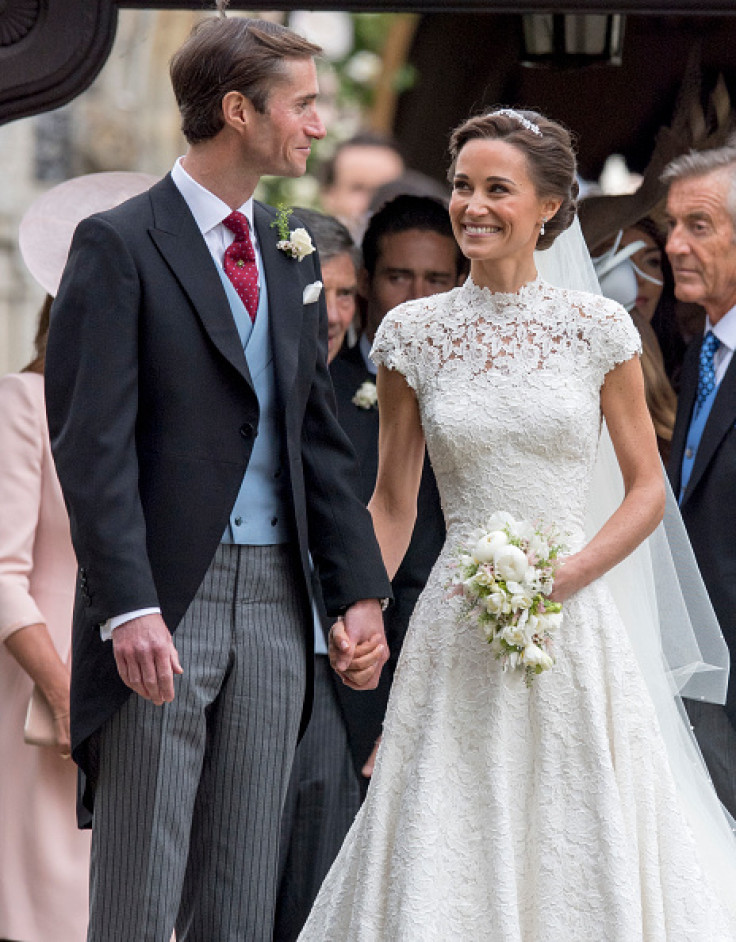 Couture designer Edwing D'Angelo added: "I love the lace, it looks so clean, so pristine, she looked immaculate."
"Looking at the dress, she was obviously looking for a romantic feel and I think (Giles Deacon) gave her that with this dress. I absolutely love his work, it was a great choice."
In contrast the public opinion was somewhat mixed. One critic said rather harshly the dress "looks like her nan's old fashioned curtains" while another suggested Pippa's wedding gown paled next to the headline grabbing bridesmaid dress she wore for her sister's wedding.
Despite the mixed reaction, the dress is expected to inspire copycat designs by brides-to-be.
© Copyright IBTimes 2023. All rights reserved.