Thousands of people, including children, were stuck in the besieged Syrian city of Aleppo after evacuations were halted on Friday (16 December) following the emergence of conflicting reports on the evacuation process. Volunteer groups assisting in the evacuations have reportedly been asked to leave eastern Aleppo.
Syrian State news agency Sana reported on Friday that the evacuation stopped because of a breakdown in the ceasefire when some of the evacuees were caught smuggling weapons and advanced communication devices. Citing "special sources", the Arabic news media reported that evacuations would resume only after government forces receive guarantees that "the terrorist groups" will strictly abide by the ceasefire deal.
However, reporting a different version, the Syrian Observatory for Human Rights said that the Syrian rebels breached the ceasefire in protest of the delay in evacuating people from two Shia enclaves, Al-Foua and Kefreia. The observatory cited sources inside Al-Foua, which is located in the rebel-held Idlib province to the west of Aleppo.
Aleppo Media Center said the Iranian militias were responsible for the breakdown of the evacuation process as they targeted the road leading into east Aleppo's Sukkari district with heavy gunfire. Another activist Mahmoud Raslan, told CNN from Aleppo that the Bashar al-Assad regime halted the evacuation and were "shooting at the entrance point using heavy machine guns".
"A warplane is in the sky now and the Syrian regime is trying to advance in al-Sendyanah bridge. People are gathered in huge numbers and very scared," he said, giving a live account of the activities inside Aleppo.
Meanwhile, Ralph El Hage, Middle East spokesman for the International Committee of the Red Cross, confirmed to CNN that the evacuations had been stopped. The humanitarian group said that their staff as well as Syrian Red Crescent workers and representatives of the World Health Organisation, who were assisting the evacuation process in eastern Aleppo and providing humanitarian support to the conflict victims, have been asked to leave the area.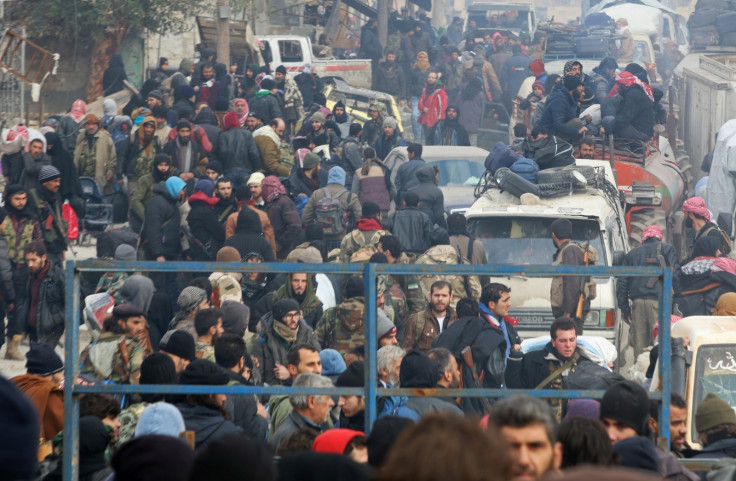 The WHO and the outgoing UN Secretary-General Ban Ki-moon called for immediate resumption of evacuations, with the global health body emphasising on resuming medical evacuation at the earliest. Close to 6,000 people were reported to have been evacuated from the conflict-hit zone by Friday.
Ahead of the blocking of the evacuation process, the WHO had moved almost 200 patients to hospitals in western rural Aleppo, Idlib and Turkey.
Calling Aleppo "a synonym for hell", the UN chief said: "The carnage in Syria remains a gaping hole in the global conscience."
WHO Syria representative Elizabeth Hoff said they were asked to leave the collection area and return to their houses on Friday. She added that "there are still large numbers of women, infants and children under five amongst those who need medical care...We hope that the evacuation will resume promptly."