The father of two men involved in the attacks in Spain last week has spoken of his shock at their actions.
Said Aalaa, 19, was among five terrorists shot dead in the seaside town of Cambrils on Friday morning (18 August) only hours after a brutal terror attack in Barcelona around 100km had taken place, killing 14 people and leaving dozens injured.
His brother Youseff is thought to have died in an explosion at a bomb factory in Alcanar some 320km away.
Their father, Brahim Aalaa, 50, told the Times: "We are a very close family. I saw my son a lot, I thought I knew my son. He doesn't go to mosque that often.
"They were all good boys, including my sons, but something has happened to them. All the boys have gone to a better place. It has been a great sadness for us."
It was reported that the boys had been indoctrinated by the imam at Ripoll's main mosque, Abdelbaki Es Satty, who was linked to the terrorist attack in Madrid in 2004, the last big terrorist event on Spanish soil.
Brahim Aalaa told the paper: "After Ramadan, all the boys went a bit mad. The town's imam might have influenced them. I just feel in shock."
Wafa Marsi, a Muslim community worker in Ripoll, said: "The imam was the wolf in lamb's clothing here," a view that was echoed by several sources across the town.
The family who employed Said at their cafe said that the arrival of Es Satty, who was believed to have been killed while experimenting with explosives in Alcanar, had changed the behaviour of some of the Moroccans who comprise the community in the Pyrenean town.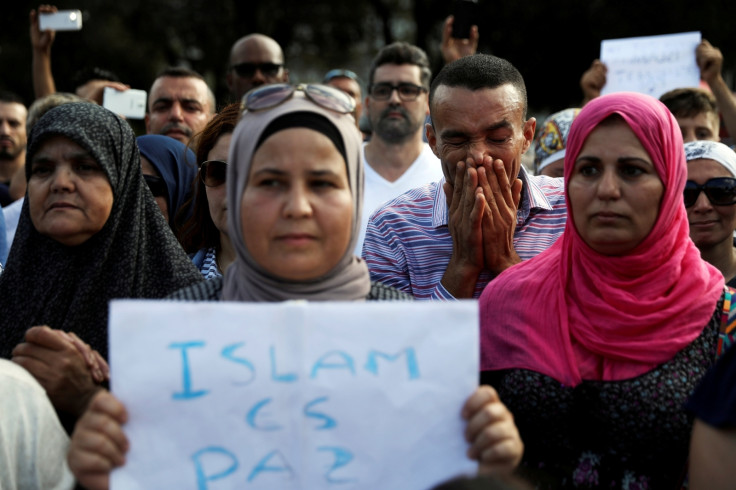 'I didn't want them to kill anyone'
The change in behaviour was noted among the girls, many of whom started to wear the hijab.
Maria Alba Martinez told the Times: "We don't understand how there could be the process of going to radical Islam. What people explain is that something was changing in the behaviour of these guys."
The mother of Younes Abouyaaqoub, the driver of the vehicle in the Barcelona attack pleaded for her son to give himself up as he is hunted across Europe. Ghanno Gaanimi said: "I want him to give himself up. I didn't want them to kill anyone, Islam doesn't say this. I didn't know anything about this business, none of us did.
Spanish police said the terror cell, which was comprised of 12 people, had collected 120 gas canisters which they wanted to use in vehicle attacks.
As well as Said Aalla, the other suspected terrorists shot dead in Cambrils were Moussa Oukabir, 17, Houssaine Abouyaaqoub.
Brothers Mohamed Hychami, 24; Omar Hychami were also among the dead. Their mother Halima Hychami said: "I feel sorry for my son, but more sorry for the others who died because of what he did."