While Christmas is a time for celebration, a family-of-six was left devastated when the mother was diagnosed with cancer just three days before the festivities last year. Despite putting up a brave fight, Donna Lowe of Milton Keynes, Buckinghamshire, lost her cancer battle in August this year at the age of 32.
Now, Mrs Lowe's husband Elliott Lowe has shared an honest account of their harrowing experience on Facebook, alongside some before and after pictures of his cancer-stricken wife. Elliott's idea behind sharing the heart-wrenching images of his wife is to "demonstrate how devastating cancer is" and to urge women to not miss the tests for cervical screening.
In the candid post shared on Facebook, the father-of-four talked about how his wife missed a smear test at the local centre.
"A year ago to date (22/12/2016) my beautiful wife, my best friend, the mother to our four beautiful children, my world, my soul mate in fact my everything was given a diagnosis by Milton Keynes Hospital that would devastate our lives and change it forever," the father-of-four began in the wordy post.
He continued, "My wife (donna Lowe) was diagnosed with cervical cancer three days before Christmas, it wasn't until the 10th of January 2017 after further tests and scans (PET Scan) that my wife's consultant at Northampton General Hospital dealt us a further devastating blow that the cancer had already spread to her Lymph nodes in her pelvic area and as a result, the cancer had been diagnosed as stage 4b."
The grieving husband added, "Despite a very hard, but brutal fight against cancer involving daily radiotherapy for six weeks and a chemotherapy session, a session which had to stop due to complications it was a diagnosis that was to claim her life."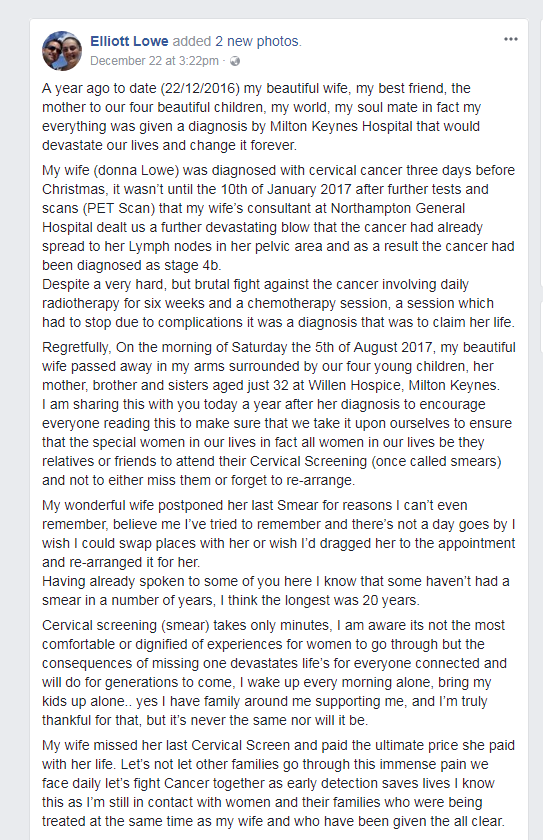 Donna's untimely death came at the young age of 32, as she passed away on Saturday morning, 5 August 2017. Her children, her husband, mother, brothers and sisters were by her side in her last moments.
It has been months since the tragic loss, but the Lowe family is still grieving. "The children are struggling beyond words. My eldest is angry with everything, my disabled son still thinks she is coming home and my eldest daughter shuts herself away," Elliott recently told Mirror Online, opening up about the devastating experience.
"My youngest daughter is very matter of fact and tells everyone that her mummy is in her heart and her head," he said adding, "I'm dreading Christmas. I have no idea what to expect or how the kids will react, I'm just going to have to play it by ear."
With his account of the cancer battle, Elliott not only has shared his personal tragedy but also encouraged women to undergo regular screening for early detection of cervical cancer.
"Let's not let other families go through this immense pain we face daily let's fight Cancer together as early detection saves lives," he added.