A father is suing Monster Energy drinks after claiming his 19-year-old son died after drinking three-and-a-half cans of the beverage.
According to US-based news website TMZ, which cited court documents, Dustin Hood drank the 24oz cans (681ml) of Monster within 24 hours in 2015.
The report says the teenager played basketball after his final can before collapsing on the court.
Hood was rushed to a nearby hospital but passed away. The lawsuit cited says that he died of cardiac arrhythmia that was triggered by a caffeine overload.
Similar instances of cardiac arrest following "acute consumption" of Monster have also been recorded, adds the report.
The energy drink contains around 160mg of caffeine per 16oz can, according to the United States Department of Agriculture (USDA), meaning a 24oz can would contain around 240mg of caffeine. The lawsuit claims that Hood had therefore consumed the equivalent caffeine to 14 cans of Coca-Cola.
The father is seeking unspecified damages.
In 2012, Monster were investigated by the Food and Drug Administration (FDA) after five deaths reportedly linked to consumption of the drink. Anais Fournier, a 14-year-old girl with a heart condition, died after drinking two cans of Monster in 24 hours.
Advocates for energy drinks such as Monster and Red Bull maintain that the caffeine found in the products is not much more than that found in a cup of strong coffee.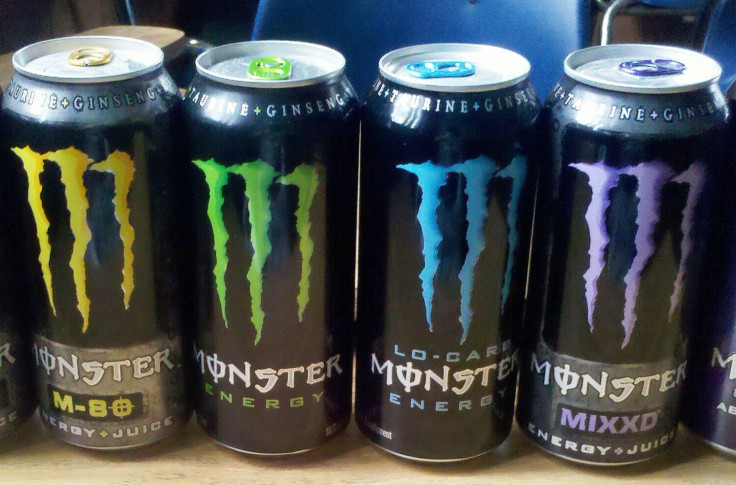 Monster told IBTimes UK via email that the lawsuit "relies on undeniably false information". A spokesman said: "While our hearts go out to the family of Dustin Hood, there is no medical or scientific basis to support any causal connection between Monster Energy drinks and the cardiac arrest purportedly suffered by Dustin Hood.
"It has never been proven that Monster Energy drinks caused or contributed to any injuries to consumers. Last year, another personal injury law firm that filed more than a dozen similar lawsuits abandoned and dismissed them all.
"There is no merit to this case either. Monster will vigorously defend the lawsuit."
The NHS says that the potential risks associated with energy-drink consumption include:
Caffeine overdose (which can lead to a number of symptoms, including palpitations, high blood pressure, nausea and vomiting, convulsions and, in some cases, even death)
Type 2 diabetes, as high consumption of caffeine reduces insulin sensitivity
Late miscarriages, low birthweight and stillbirths in pregnant women
Neurological and cardiovascular system effects in children and adolescents
Use and dependence on other harmful substances
Poor dental health
Obesity