FBI charge jilted man for making bomb threats against Jewish communities across US
Joint FBI and NYPD investigation alleges cyberstalker was behind wave of anti-Semitic threats.
A man who made bomb-threats against Jewish communities across America in the name of a woman he was stalking has been arrested and charged by the US Department of Justice.
A joint investigation between the FBI and NYPD has led to a charge of cyberstalking and "communicating threats" for Juan Thompson, 31, who was arrested in home town of St. Louis, Missouri, early on Friday 3 March.
"Today, we have charged Juan Thompson with allegedly stalking a former romantic interest by, among other things, making bomb threats in her name to Jewish Community Centers and to the Anti-Defamation League," US Attorney Preet Bharara said in a statement.
Thompson is expected to appear to hear the charge against him later on Friday.
"Threats of violence targeting people and places based on religion or race – whatever the motivation – are unacceptable, un-American, and criminal," said Bharara.
A wave of threats to Jewish community gathering places has swept America since January. According to the Anti-Defamation League (ADL), more than 90 bomb threats have been called in to Jewish community centres, schools, and daycares. Many of these are affiliated with the Jewish Community Center Association of North America (JCC).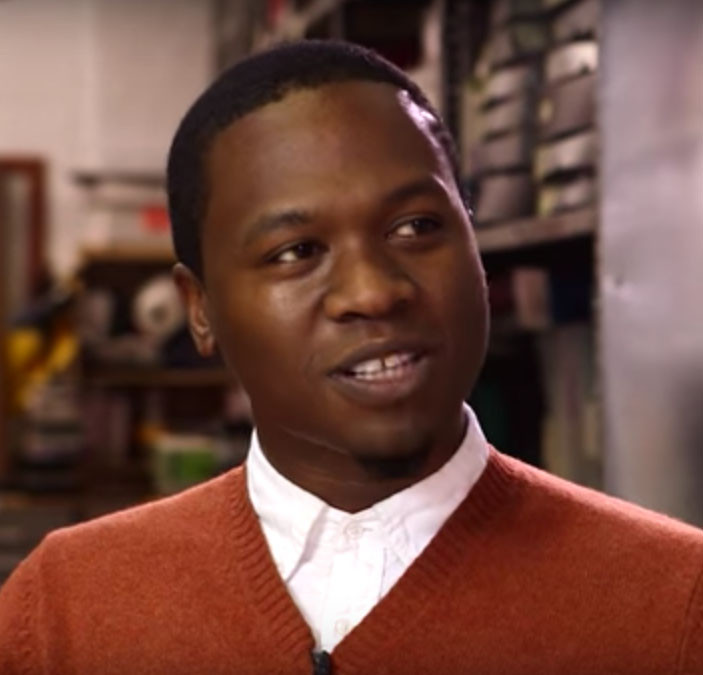 Juan Thompson in a BRIC TV video on YouTube.
YouTube/BRIC TV
In early February more than 100 Jewish gravestones were vandalised in St Louis, and dozens of headstones at a Jewish cemetery in Philadelphia, Pennsylvania, were overturned last week. These are in no way connected to Thompson's case, but have contributed to the climate of fear in Jewish communities. Officials told NBC News that Thompson's arrest doesn't mean their investigations into threats against America's Jewish community are over and that they consider him a "copycat" who made calls "to settle a personal score."
On Wednesday 1 March the ADL reported that at least 20 bomb threats were made against JCCs and Jewish day schools on Monday this week. The group says it's the fifth wave of bomb threats since 1 January. New York was among the states where bomb threats were issued on Monday, including New York City.
Thompson "appears to have made at least eight of the JCC threats as part of a sustained campaign to harass and intimidate" his female victim, said the Department of Justice release. His campaign against the woman began after shortly after a breakup and included defamatory emails and faxes to her employer and false claim she possessed child pornography. Authorities said they were able to trace Thompson back to his home using an IP address.
As he was allegedly making the calls Thompson was also tweeting about the incidents.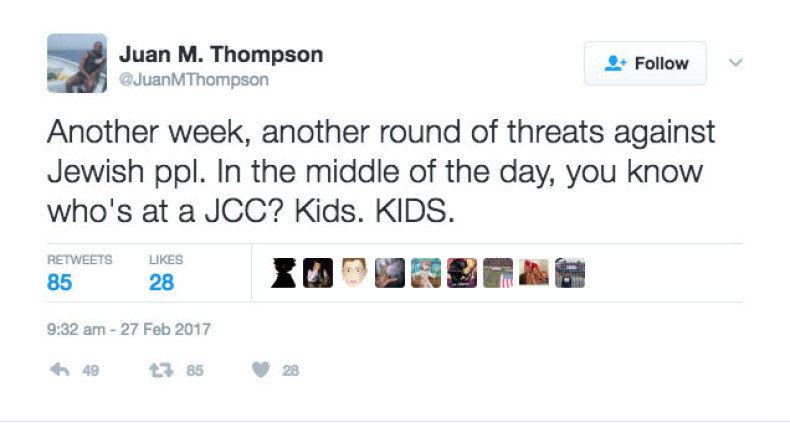 Thompson has worked as a journalist in the past and was fired from his job at The Intercept in January 2016 after fabricating elements of several stories. At the time, Thompson's Editor-in-Chief Betsy Reed told BuzzFeed that her staff had "recently discovered a pattern of deceptions" in his reporting. Among these included impersonating Reed's email account.
"Thompson's alleged pattern of harassment not only involved the defamation of his female victim, but his threats intimidated an entire community," said the FBI's Assistant Director-in-Charge William F Sweeney Jr.